Vintage Videos: Bahamas In The 1930s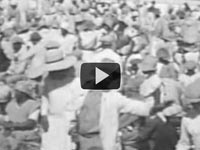 More vintage home movie footage of Bermuda in the pre-World War Two [1939-1945] era has been restored and posted online by Nova Scotia's provincial archives.
The scenic 1933 footage was taken during a holiday trip to Bermuda, Bahamas and Jamaica.
The newly posted footage was shot by John B. Porter (1861-1943), a mining engineer and amateur filmmaker, who travelled extensively around the world and took 16mm moving pictures of his travels.
He lived in Montreal, summered in Guysborough, and wintered in California.

films, history, travel