Yale Professors' Performance Thrills Audience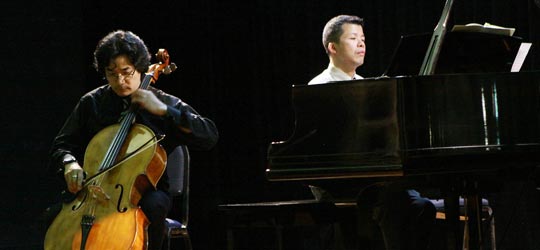 Under the patronage of Governor-General Sir Arthur Foulkes, the Nassau Music Society's March 23 – 24, 2012 concerts at The Kirk and St. Paul's Lyford Cay respectively featured internationally-acclaimed performing artists Wei-Yi Yang, pianist, and Ole Akahoshi, cellist, both Professors at the Yale School of Music.
Professor Yang was born in Taiwan and educated in the United Kingdom and the United States, studying with Arkady Aronov of the Manhattan School of Music and Boris Berman of Yale. Winner of the Gold Medal and Grand Prize in the San Antonio International Piano Competition, many other triumphs followed as he performed in Europe, the Far East, Australia, Central America, and in the U.S., most notably at Lincoln Center, the Kennedy Center, Steinway Hall, and Carnegie Hall in New York City. Mr. Yang has performed as a chamber musician with members of the New York Philharmonic, the Cleveland, Philadelphia, and Minnesota Orchestras, and the Chicago, San Francisco, Pittsburgh, Singapore, and London Symphonies just to name a few. Mr. Yang has also worked with international artists such as Claude Frank, Peter Frankl, Byron Janis, Murray Perahia, Hans Graf, Frederica von Stade, Richard Stolzman, David Shifrin, and the Pacifica, Cassatt, and Tokyo String Quartets. Mr. Yang has recorded for the Renegade Classics, Albany Records, and Holland-America Music Society labels.
Professor Akahoshi, who was born in Germany but was educated primarily in the United States, has a sterling performance background as well. The youngest pupil (age 11) ever accepted by Pierre Fournier and later a student of Janos Starker at Indiana University and Aldo Parisot at Yale, Mr. Akahoshi was the top-prize winner in numerous competitions including the Concertino Praga, the Jugend Musiziert, and the Salon de Virtuosi. He is the principal cellist of the Sejong Soloists and is a member of Seiji Ozawa's Saito Kinen Orchestra and the Opera Nomori Tokyo. Mr. Akahoshi has also performed with Sir Yehudi Menuhin, Leon Fleischer, David Shifrin, Ani Kavafian, Garrick Ohlsson, and the Tokyo String Quartet. His performances have been featured on CNN, NPR, and WQXR as well as on several international stations, and he has performed in Carnegie Hall, Avery Fisher Hall, the Kennedy Center, and many international venues too numerous to mention. Mr. Akahoshi has toured widely in Europe, Russia, the Far East, the Middle East, Canada, and the Americas, and has made recordings for the Naxos label as well as a number of others.
Professors Akahoshi's and Yang's program featured 19th and 20th century works by German, Russian, Polish, and French composers. They opened the program with Variations concertantes Op. 17 composed in 1829 by Felix Mendelssohn (1809 – 1847). The work started with a melody that was as warm and comforting as a mother's hug, and with a voice that was as rich and full as that of a loving father. I must say that Mr. Akahoshi coaxed the most resonant, beautiful singing tone from a cello that I have ever heard, and I have heard almost all of the cello greats in person. His fluid, uninterrupted legato lines with their perfectly nuanced and shaped phrases were positively mellifluous; and his velocity was equally masterful, to say nothing of his perfect intonation. Mr. Yang's fleet-fingered facility along with his sure and confident touch were perfect accompaniments to Mr. Akahoshi's lead. A subsequent pizzicato/staccato variation was appropriately jovial and bouncingly good, while the perilous sturm und drang sections with their rocking bow movements had their turbulence subside at last. This work was characterized by such dynamic ebbs and flows, where some variations would start with a sharply defined entrance that was like a bite into a refreshing HoneyCrisp apple, and other variations would end in a way that was reminiscent of delicate lacework.
Still, the thing that impressed me most was the communion (I can't think of a better word) between our two artists. Their performance was like a conversation between best friends: where one would leave off, the other would take up the thought. As advocated by psychologist Carl Rogers, they applied an "active listening" techniques, and communicated subtly with glances and almost imperceptible nods. They even breathed together, as the best chamber artists do. In fact, they were like one organism, but with two heads and four hands. When I mentioned that to Professor Yang, he quipped that he and Professor Akahoshi were really twins who had been separated at birth!
The first half of the programme concluded with two tone poems for solo piano, as described by Professor Yang. The first was the Prelude in C-sharp minor, Op. 3 No. 2 composed in 1892 by Sergei Rachmaninoff (1873 – 1943) and known as "The Bells of Moscow." I imagine that the 18 purposely untuned Danilov bells, cast between 1682 and 1907 and prized for their individually distinctive "voices," were the primary inspiration for this work. The Danilov Monastery was the first monastery in Moscow, founded at the end of 13th century by Russian Orthodox Saint Prince Daniel of Moscow, son of Prince Alexander Nevsky. The bells were still in place in 1892 when the prelude was written, but were given a temporary home in the U.S. for 78 years after Stalin banned bell-ringing in Soviet Russia.
Professor Yang's interpretation of this magnificent, soul-shattering piece was the finest I have ever experienced. I've heard my share of pianists who think it's all about bombast and pounding the piano into submission. Trust me, it's not. To speak of Professor Yang's "touch" or even his vast repertoire of touches at the piano does not come close to describing what we witnessed and heard. Mr. Yang was one with the piano, his beloved extended other self; and one with the music, his inspiration for being and the conduit for his electric and profoundly moving performance. The hammer strokes were solemn and muted at first, projecting a dark and even oppressive mood that portended both tragedy and passion; but as the pedals enabled the sonorities and harmonic resonances of the overlapping peals begin to build, the hammer strokes increased in intensity and power, leading us into a clangorous, ecstatic chaos of sound that overwhelmed the senses and enveloped us in the Divine. (I don't know about anyone else, but I confess to getting goosebumps!) Then as the hammer strokes subsided into a mournful tolling, we were left to contemplate the mysteries of the numinous and the meaning of our lives.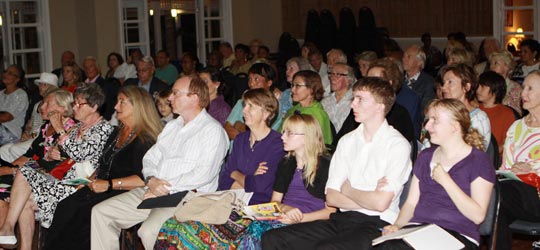 Thankfully, Professor Yang next treated us to the Alborada del gracioso from the suite Miroirs (Reflections) composed between 1904 and 1905 by Maurice Ravel (1875 – 1937), a work designed to elevate our spirits after experiencing the dizzying heights and depths of the previous prelude. By way of introduction, Mr. Yang told us that Manuel de Falla himself said that Ravel's compositions were the most truly Spanish! He also explained that this particular work is about a court jester who has the palace to himself in the hours before the dawn. The work opens with the expression of joy and even outright exuberance by the jester, and playfulness and pure joie di vivre were certainly in the forefront in Mr. Yang's performance. We hear a guitar being strummed as the jester cavorts and pretends that the palace is his personal possession. The middle section of the piece is more pensive, and perhaps even approaches the tragic as if the jester is contemplating the reality of his situation and is becoming overwhelmed by his servitude and total lack of autonomy. He has to play "let's pretend" in order to get himself through another day at court where his very existence depends upon the whims of his so-called "betters." But then he shakes off these feelings, as evidenced by the whorls of acrobatic glissandos as the approaching day and the sumptuousness of his surroundings remind him that his life is still more beautiful and exciting than that of most people. For now, before the dawn, he can leap and twirl and somersault for himself alone. For a few precious hours, he is his own master, his own man; and his body is his own to command!
The second half of the programme started with two totally different treasures, both by Frédéric Chopin (1810 – 1849). Professor Yang first presented the Prelude in D-flat major, Op. 28 No. 15, which is known as "The Raindrop Prelude." This is the longest of the 24 preludes that comprise Opus 28, composed between 1835 and 1839. While the melody progresses in three sections, the middle section is much more dark and dramatic (and is in the key of C-sharp minor). Once again, Mr. Yang's touch played not only upon the piano's keys but also upon our very hearts and souls.
In the beginning, we hear the droplets, gentle at first, played by the left hand as the pianist's right hand sings the well-known and well-loved melody. However, when the melody shifts to the left hand and the droplets to the right, the droplets (octaves and even chords now) become more insistent as the melody switches to the minor mode. The mood becomes darker still, just by virtue of the melody's being played in the lower register of the piano. There is even a "sampling" of Bach's "O Sacred Head, Now Wounded" to add to the ominous feeling of impending doom as the melodic line is given back to the right hand. Then the original sweetly sad melody is recapitulated, but progressively more hesitantly, sounding for all the world like a music box slowly winding down.
Professor Yang next graced us with the Fantasie-Impromptu in C-sharp minor, Op. 66, an all-time favorite show-stopper. Composed in 1834, the Fantasie was shimmering and iridescent, yet there were moments of poignancy not often realized in this composition. While the piece begins with flurried filigree work, it soon bursts into full flame before exhausting itself and segueing into the familiar strains of "I'm Always Chasing Rainbows," to the audience's unalloyed delight. Mr. Yang played this section with an exquisite sensitivity that sadly is in short supply in many performances of this work. Personally, I didn't know if I should sigh or hold my breath as he caressed the ivories. The only thing I missed was feeling Chopin's militant "Polish-ness" in the dotted rhythms.
The Fantasie-Impromptu is probably almost everyone's favorite Chopin piece, and it is far from trivial to execute well; but it was more than well served by Mr. Yang's pianistic skill and interpretation. It showcased and thoroughly established Mr. Yang's incredible virtuosity, if anyone had any doubts before. That such power, depth, and emotion could emanate from such a slender young man was truly amazing. Cries of "Bravo!" erupted spontaneously from the audience at the conclusion of this work, and it took a few minutes for us to compose ourselves for the next course in this musical feast.
Last on the programme was the Cello Sonata in A major, Op. 69 composed in 1808 by Ludwig van Beethoven (1770 – 1827). The Allegro, ma non tanto (fast, but not too much) started with Professor Akahoshi playing a solo cello line most movingly that was then joined "trillingly" and somewhat amusingly (to me at least) by Professor Yang at the piano. As the movement progressed, it sounded more like the forceful Beethoven that we all know and love from his piano sonatas. And once again, as in the Rachmaninoff, it seemed to me that there was an incidence of "sampling," but this time from another of the composer's own works, namely Fidelio (or perhaps from the related Leonore overtures).
Professor Akahoshi used vibrato to excellent effect, and once again his rocking bow emphasized the tumult inherent in much of this piece. But there was also consistency in inconsistency in this movement, in that whenever the cello repeated its melody, the piano either provided a different running commentary or "take" on it, shedding new light and meaning on it, or else the piano played the melody in unison with the cello as if in total agreement with what was being propounded. The audience was unable to contain itself and responded with enthusiastic applause at the conclusion of this movement.
The second movement was a Scherzo instead of the traditional slow movement. It was somewhat more divergent than the first movement, with its back-and-forth feeling and its unusual chordal section on the cello. We experienced its exciting heartbeat, whose "thump-thump" turned into a pounding, pulsing, trilling, and thrilling never-to-be-forgotten experience. We also enjoyed the perfect balance between the cello and the piano. As always, Mr. Yang was in a constant state of awareness of Mr. Akahoshi's lead, illustrating before our eyes and ears that the whole is indeed greater than the sum of its parts. Well done, and rare!
The last movement comprised an Adagio cantabile introduction that led into the main Allegro Vivace section. Professor Akahoshi's Adagio was as sensitive, enveloping, and caressing as anyone could wish. Played with great finesse by Mr. Akahoshi and supported simply perfectly by Mr. Yang, the brief but moving passage then led us into the Vivace. Here, Professor Akahoshi positively outdid himself in terms of dramatic intensity as he built to a blood-racing level of excitement that then dissolved slowly to let us catch our collective breath. But before we knew it, scales of swift ferocity in both the cello and piano lines elided seamlessly, bringing everything yet again to a fever pitch in a thunderous race to the finish line. Professor Akahoshi ended the work in a flight of virtuosic fantasy, horsehair filaments flying from the cello's bow. The intensity of the finale led to an immediate and well-deserved standing ovation, and more cries of "Bravo!" than I've heard in a long while.
In conclusion, Professors Akahoshi and Yang responded with an encore by Mendelssohn, which served in a way as a bookend to the Mendelssohn work with which they had opened the concert. The beautiful Song Without Words Op. 109 for Cello and Piano written in 1843 started wistfully and contemplatively, but quickly progressed into a swiftly moving stream of notes followed by a quiet section featuring haunting, anchoring basso profundo cello notes. Finally, the opening melody was recapitulated, but it then led into a distressed section before melting into acceptance.
I think I speak for all of us when I say that I did not want this concert to end. As Patrick Thompson, President of the Nassau Music Society, so aptly stated, this was one of the most outstanding programmes and performances ever heard by the hundreds of our members and guests who were privileged to be in attendance either Friday or Saturday night. We look forward to a time when Dean Robert Blocker of the Yale School of Music will be able join us in another concert that will transport us equally ecstatically out of our mundane selves and into the realm of musical rapture.
Submitted by Anita L. MacDonald, MMus, MR, MBA, GPC/MIS

arts, culture, music, society