Bahamas At Bottom Of Business Confidence List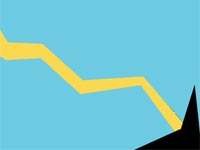 A sobering report has revealed low levels of professional confidence in The Bahamas, a stark contrast to the worldwide view.
The comprehensive survey involving thousands of accountants from around the world notes that business confidence in The Bahamas is the lowest in the Caribbean.
The Global Economic Conditions Survey, conducted by the Association of Chartered Certified Accountants (ACCA) and the Institute of Management Accountants (IMA), gauges the economic climate through the lens of more than 2,200 finance professionals worldwide.
While Jamaica has seen an improvement in business confidence, the region at large is underperforming compared the rest of the Americas.
Meanwhile, the survey places The Bahamas at the bottom of the list.
"The Bahamas has underperformed compared to the rest of the region amidst pre-election uncertainty, ending 2011 with lower confidence levels and additionally gaining less confidence than other Caribbean countries in the first months of 2012," said Brenda Lee-Tang, the head of ACCA Caribbean. "Although the employment outlook and general business conditions across the region appear to have improved, businesses are still under a lot of pressure and respondents have cited fewer new value-added business opportunities."
In contrast, total respondents around the world felt more confident, increasing from 16 percent in 2011 to 29 percent early this year. While 54 percent believed the global economy was still deteriorating or stagnating, that figure is down from 73 percent in the previous year.
At least one school of opinion has linked the poor results for The Bahamas to the ongoing election, uncertainty of the country's economic future and the resulting lack of consumer and investor confidence.
The Bahamas felt the full weight of the crisis in 2011, suffering two major downgrades. Last August, Moody's revised the country's outlook from stable to negative, while affirming the A3 government bond ratings. National debt increased almost 150 percent over the past decade to nearly 50 percent of GDP at the end of 2010.
Moody's further projected there were limited growth prospects down the road.
Less than three months later, Standard & Poor's downgraded the country's long-term credit rating from 'BBB+' to 'BBB/A-3', as the regulator revised the way it evaluates sovereign ratings.Click here to receive free news bulletins via email from Caribbean360. (View sample)
www.caribbean360.com

business, caribbean, investing