Bahamian Youth Thrive On Hike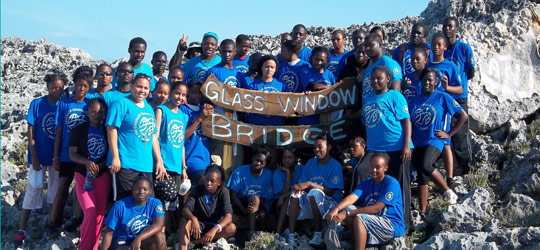 It looked like an episode of the reality television game show "Survivor" as over 150 students from 11 schools across The Bahamas spent their weekend reading maps, camping out and backpacking across two Family Islands.
The exercise, however, was a part of three separate expeditions put on by the Governor General's Youth Award (GGYA), an international programme which challenges young people between the ages of 14 and 25 to achieve their personal best.
"There were one or two bumps and bruises. Still, no one gave up," said Terez Rolle, a GGYA volunteer and teacher at C.V. Bethel High.
These supervised treks allow participants to showcase their leadership abilities, develop teamwork values, test their level of endurance and learn from their adult volunteers. Participants are trained in route planning, map reading, camping skills, safety precautions and first aid before embarking on the challenge.
"It was tiring but fun," said 16-year-old Martinique Coleby of Government High School. "I got to meet students from different schools and explore Eleuthera. I have never been to Eleuthera before."
Participating in the adventurous journey were units from the Lyford Cay International School, St. Anne's High School, C.V. Bethel, Nassau Christian Academy, C.C. Sweeting Senior, Government High and Queen's College in Nassau. The Nassau participants trekked in North Eleuthera through James Bay, Preacher's Cave, The Bluff and Three Island Dock.
Meantime, participants from the Harbour Island All Age School, North Eleuthera High and Windermere High in Eleuthera trekked parts of Eleuthera's east coast from Upper Bogue to Bottom Harbour, travelling the road to the Glass Window Bridge and into Gregory Town.
Participants from L.N. Coakley High and St Andrews Anglican School hiked in their home town, Exuma.
The vast majority, 132 participants, undertook their hiking expedition in Eleuthera, while 20 persons carried out their journey in Exuma.
The 15-mile hike is just one requirement for those participants striving for a Bronze Award. The Award is judged based on four criteria and promotes self-development through encouraging and recognizing youth participation and achievements in community service, physical fitness, special skills and an adventurous journey (hike).
Participants can strive for Bronze, Silver, or Gold, depending on the amount of time they are willing to commit. A minimum of six months is required for the Bronze Award.
According to volunteer Janet Cartwright, who supervised the Exuma expedition along with Colin Cameron, participants performed well.
"Their assessor was really impressed at how they took initiative and followed instructions," said Ms Cartwright. "Two girls had experienced difficulty on the trip but participants rallied together and helped. I was impressed with the level of teamwork."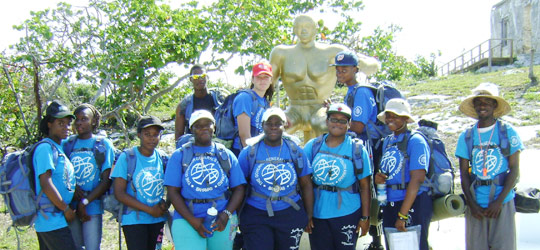 The Duke of Edinburgh's Award was re-introduced in The Bahamas in 1987 as the GGYA. The programme is currently in its 25th year of operation. World-wide the Award programme has over seven million recipients in 132 countries.
In 2011, young Bahamians receiving the Gold were presented with the Award by His Royal Highness, Prince Edward, youngest son of Prince Phillip and Queen Elizabeth II.
Recently, the government partnered with the GGYA through the G.O.L.D. Initiative, providing financial support necessary to make the programme more national in scope. During the first year of that partnership the GGYA recorded 1,935 registered participants, the highest level of participation in its history.
"The partnership helped to decrease the cost for participants which is most important and with the increasing publicity, the programme is now able to reach out to more organizations and more islands," said Mr Rolle, a Gold Award Holder, who has been involved with the programme for more than a decade.
The GGYA is currently operating 53 units nationally. Approximately 28 of those units are on eight Family Islands.
For Monique Cooper, a Government High School teacher and GGYA volunteer, this is the programme of choice for youths seeking self development.
"I like the outdoors and I see where students can benefit from it. This programme allows students to be involved in a physical program, serve in the community and enhance their skills," she said. "Other youth groups do not have all of these components which develop the whole person."
This year the GGYA will host the Caribbean Award Sub-Regional Council (CASC) 2012 adventurous journey from July 27 to August 12.
The event brings together young persons from the Caribbean region, the United Kingdom and the United States to complete their qualifying expedition, participate in community projects and undergo training in leadership and disaster management.
By Precision Media for BahamasB2B.com
CAPTION: The GGYA held a record three expeditions in just one weekend, two were in Eleuthera and a third in Exuma. Photos courtesy of the GGYA

educational, environment, youth