Scotiabank Supports Gippie's Kingdom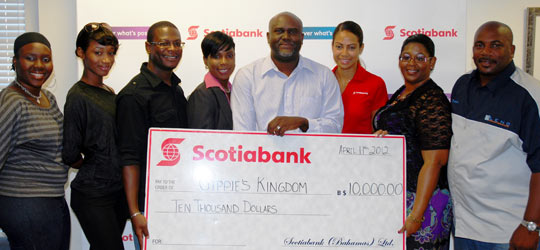 Scotiabank Bahamas is on board as a major sponsor of the groundbreaking local TV series, Gippie's Kingdom set to hit the airwaves next month. Gippie's Kingdom, an 8-part series, is co-produced by Dr. Ian Strachan and Travon Patton who expressed gratitude to Scotiabank for their endorsement of the project.
Dr. Strachan is well known for his political and social commentary as well as for his plays. "Writers want the widest possible audience for their work," says Strachan. "Through the medium of television I no longer have to persuade you to get dressed, and put down 20 or 25 dollars to come and see my play or to buy my book. My work is coming to you, and all you need to do is press a button to enjoy it. I'm very thankful that this project has gone so well, and thankful for the level of support we are receiving from corporate Bahamas."
"I believe this is a first of its kind in The Bahamas and it's important for us to be a part of this!" said Scotiabank's Senior Manager of Marketing and Public Relations, Leah Davis. "This partnership is just another demonstration of our commitment to the community. At Scotiabank we see partnering with the community as a part of who we are. Most of our corporate giving comes under the umbrella of Our Bright Future Program, the program through which we support opportunities for young people in the areas of youth development, sports, education, arts and culture.
We see a good fit with Gippie's Kingdom because it tackles some of the social issues plaguing the country and will offer a new perspective."
The Gippie's Kingdom series premieres on June 13th, 2012 at 8.30pm on ZNS TV13 and will rebroadcast every Sunday evening at 10pm. Those who would like to learn more about the soap can visit www.gippieskingdom.com or facebook.com/gippieskingdom.
Gippie's Kingdom cast members are pictured with (centre): Indira Rolle, Scotiabank, Manager of Sponsorships; Dr. Ian Strachan, co-producer; Leah R. Davis, Senior Manager of Marketing & PR for Scotiabank.

charity