Baark Raises $7,000 At Beach Sunset Party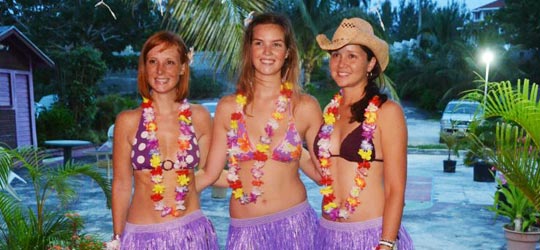 Baark's (Bahamas Alliance for Animal Rights and Kindness) Mid-Summer Sunset Party, held at Nirvana Beach, was the place to be this past Saturday, June 23rd. With music from DJ Furze and live entertainment from Countess Pepper, the 200+ crowd enjoyed a fantastic night with all proceeds going towards Baark's spay and neuter program here in Nassau.

Nirvana Beach Resort generously donated their venue free of charge for Baark! to use for the event, Ms Angelique Rollins, Property Manager said "We were delighted to assist Baark! in their fundraising goal by providing them with our property for their function. The spay and neuter projects they do in the Bahamas are extremely important and we were glad to have the opportunity to help with such a worthwhile cause. It was a great night and we hope that everyone that participated enjoyed themselves".

Party goers were able to enjoy delicious food throughout the night donated by Bahama Grill and Sbarro. The festivities were highlighted by a spectacular dance and fire eating performance from Countess Pepper –who even enlisted the help of some brave volunteers.



Laura Kimble, Baark! Chairman said "it was our first event of this kind and we were thrilled with the turnout and resounding success. A big thank you goes to Mr Cedric K Munnings, owner of Nirvana Beach, everyone involved with the organizing and those who came out on the night to support. We are excited to put the $7,000 towards our spay and neuter program – this money WILL make a difference and get us one step closer to our goal of reducing the numbers of stray and suffering dogs on our streets."

Baark! would like to thank their event sponsors Think Simple, ASA H Pritchard, Nassau Tile and ACL Shipping. Donations for the function were also receivedfrom Bristol Wines and Spirit, Bahama Food Service, Heineken, SuperValue, Burnshouse , Windermere Spa , Bahamian Brewery and d'Albenas Agency Ltd.

To find out about Baark's upcoming event people can go to the website www.baarkbahamas.org or see their Facebook page.

animals, charity, community