Bud Light Seeks Help In Bahamas Music Festival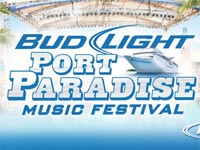 ST. LOUIS, June 27, 2012 — Before Bud Light sets sail in November for this year's Port Paradise Music Festival – a four-day, three-night cruise to the Bahamas that includes an exclusive two-day music festival at Atlantis and Coco Cay – it's turning to its fans to help select three opening acts with a summer-long Battle of the Bands contest.
Last month, Bud Light launched the Battle of the Bands contest by asking unsigned bands nationwide to submit their top track at Sonicbids.com for the chance to perform during the Port Paradise Music Festival.  Now through July 3, Bud Light is asking adult music fans to select their favorite bands from an eclectic collection of more than 350 entries at www.BudLight.com/BattleOfTheBands.  A panel of industry professionals will then narrow the top-10 vote-getters from each of the regional markets (Denver, Detroit, Houston, Las Vegas, Miami, Nashville, New York and St. Louis) to three finalists per city.  The 24 finalists will be announced on or about July 13.
From there, Bud Light will host a Battle of the Bands concert featuring the three local finalists in each of the eight regional cities between July 26 and August 5.  Each of the bands' performances will be recorded and posted on www.BudLight.com/BattleOfTheBands, and between Aug. 13-27, fans will once again be called on to vote for their favorite bands.  The top-3 overall vote getters will receive a slot in the Port Paradise Music Festival line-up.
"Since our fans will be the ones enjoying the Port Paradise Music Festival, we want them to play a role in shaping the line-up," said Mike Sundet, vice president, Bud Light.  "Through the Sonicbids partnership, we'll not only find three of the top up-and-coming bands in the country, but attendees will also get to explore a whole new generation of great music."
Taking place Nov. 16-19, the Bud Light Port Paradise Music Festival will send more than 5,000 promotional winners aboard two full-size cruise liners for an extended weekend adventure that includes live concerts at Atlantis in Nassau on Saturday, Nov. 17, and on the private island of Coco Cay on Sunday, Nov. 18.
Adults, 21 and older, can now enter to win trips for the Bud Light Port Paradise Music Festival by visiting www.Facebook.com/BudLight and clicking the Port Paradise tab.  There, fans can build unique crews of four with their Facebook friends for the chance to win two cabins on the Port Paradise cruise.  Beginning June 25, 2012, a winning crew will be selected each week through Sept. 9, 2012.  For more details and official rules, visit www.Facebook.com/BudLight or www.BudLightPortParadise.com.
SOURCE Anheuser-Busch

cruise, music