Urgent Demand For Skilled Workers In The Bahamas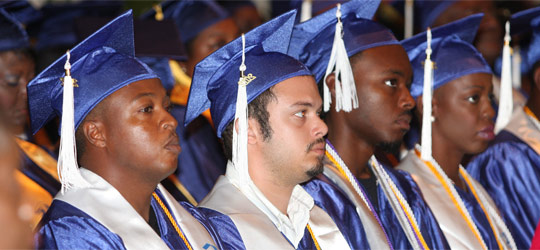 Nassau, The Bahamas – The Government is aware of the urgent demand for highly skilled workers in various fields and is committed to fulfilling these needs through the Bahamas Technical and Vocational Institute (BTVI) said Jerome Fitzgerald, Minister of Education, Science and Technology.
"The objective is to stimulate economic growth through anchor projects on New Providence and in the family islands and to develop the skills of our people and ultimately, our nation," said Minister Fitzgerald.
He told the gradates that education is the key to empowerment and the education system must provide the opportunities and prepare the nation's children with regard to career choices for them to become contributors to the development of society.
Mr. Fitzgerald gave the commencement address at the graduation ceremony for BTVI on June 21 at Wyndham Nassau Resort Hotel. The theme for the event was Enhancing Your Career Through Technical and Vocational Education and Training. The Royal Bahamas Police Force Pop Band provided entertainment.
The graduates were encouraged to allow their newly acquired skills to place them on a path to greater accomplishments.
"Employ a work ethic for yourselves," said Mr. Fitzgerald. "Be fair, true and professional in all of your dealings.   Let integrity be your watchword and God your guide.   I am certain that the returns will be tremendous and fulfilling."
He highlighted the progress that BTVI has made over the years in terms of expansive programme offerings, affiliations with recognised overseas training institutions and in ensuring that the public is aware of its presence, functions and purpose.
"Technical and vocational education and training is a most effective means for society to develop the human potentials of a country.   I am convinced that the BTVI will play an inordinate role in the realisation of the plans and objectives which we have articulated," he said.
The 2012 graduating class comprised 133 students.
By Kathryn Campbell
Bahamas Information Services
Caption: 2012 graduating class
Some of the 2012 graduating class of BTVI listen attentively during the commencement exercise. (BIS Photo/Letisha Henderson)

educational, employment, jobs