Bahamas Participates In EPA Strategy Meeting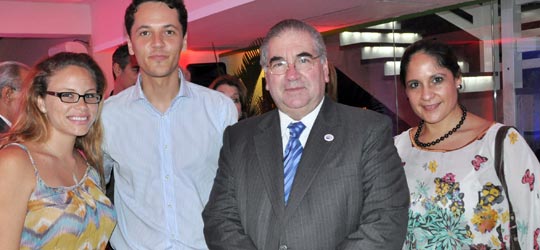 Officials from various EPA Implementation Units, including The Bahamas' Ministry of Financial Services, met in Santo Domingo, Dominican Republic June 11-13 to discuss EPA Communications Strategies.  Karla Wells, Economic advisor in the Ministry of Financial Services attended on behalf of The Bahamas.
The Economic Partnership Agreement, a comprehensive trade agreement between CARIFORUM (CARICOM + the DR) and the European Union (EU) was signed in October 2008. Since signature, member states have been working on implementing or giving effect to the agreement which covers the trade in goods and services, and trade related matters, between CARIFORUM and the EU, and within CARIFORUM.
Under the EPA, CARIFORUM companies benefit from duty free/quota free access into the EU. During the meeting, representatives of the EPA Implementation Units discussed the ways in which the benefits of the agreement should be conveyed to private sector stakeholders, both goods producers and service providers, including those currently exporting to the EU and those which not yet are.   It is important to the Government of the Bahamas that Bahamian businesses be given every opportunity to grow and access other markets and ultimately to derive enhanced economic benefit from international trade.
Experiences of the Implementation Units were shared amongst members and a goal was set for a common Communications Strategy to be drafted and executed. The meeting also discussed the CAFEIN Website, launched recently to promote the EPA and provide interested parties with useful information. The CAFEIN Website can be access at http://cafein-online.net.
The Government of The Bahamas has made extensive steps to implementing the EPA. Substantial advancements have been made with the Bahamas Customs Department by way of the recently passed Customs Management Act which includes modern features such as advanced rulings which will require Customs Officers, when requested, to notify importers in advance what the classification and rate of duty on a given product will be.
The Government of the Bahamas will be fully engaged in further regional meeting and activities to ensure that Bahamians are given full access and disclosure to the workings of the EPA, and other trade initiatives.  In all instances, the Bahamas Government is committed to transparency and providing greater opportunities for Bahamians.
The EPA Implementation Units are tentatively scheduled to meet again in August 2012 at a location to be determined.
Caption
Pictured at a cocktail reception hosted by the Government of the Dominican Republic for the EPA coordinators from left: Karla Wells, Economic Advisor in the Ministry of Financial Services; Mr. Matthias Bresser, Trade Programme Advisor, GIZ (German technical assistance agency); H.E. Manuel Garcia Arevalo,  Minister of Trade and Commerce, Dominican Republic;
Ms. Sharon McIntosh, Programme Coordinator, Trade Implementation Unit, Republic of Trinidad and Tobago.

caribbean, economic, financial services