New Boutique Casino For Bimini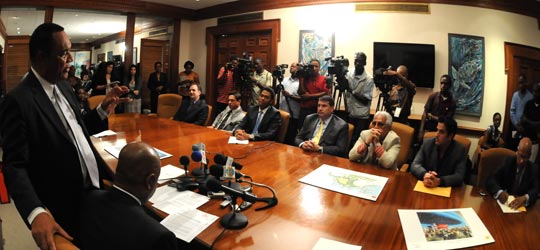 NASSAU, The Bahamas — Prime Minister Perry Gladstone Christie announced a new luxury boutique casino for the Bimini Bay Resort and Casino during a press conference at his Cable Beach Office, Friday, June 29, 2012.
The Prime Minister said the new casino is the result of a partnership between Resorts World Genting and Rav Bahamas Ltd.
"This is an important venture not only for Rav Bahamas and Resorts World, but also for the island of Bimini as it provides further stability for the local economy in a destination that already enjoys a 79 per cent visitor return," he said.
Prime Minister Christie explained that Resorts World Genting is one of the world's premier resort and casino operators.  "Their involvement and confidence in The Bahamas should add a great deal to the attractiveness of this country as a leading international tourism destination.
"Their vast customer base, marketing clout and state-of-the-art operations will have a very positive impact on Bimini Bay Resort and the local economy, creating new construction and permanent operational jobs, as well as entrepreneurial opportunities for Bahamians."
The Prime Minister said the Public Treasury will also benefit from additional revenues and the Government will work closely with the developers to ensure that the multiplier economic effect is felt throughout the island of Bimini.
"Government and the developer are in discussions to ensure people in Bimini will be given every opportunity, and the training that will enable them to benefit directly as a result of this development."
The Government will ensure that the people of Bimini do not look through the window, but get into the development by being active participants, the Prime Minister said.
"We will ensure that by acting proactively with the developers to recruit and train, beginning immediately, the Biminites and the people who come from Bimini, with a view to ensuring they are able to remain home and return home, and have a sustained source of employment as a result of the multiplier impacts that this development will bring about.
"It will also necessarily result in significant infrastructural improvements to both North and South Bimini," the Prime Minister added.
Minister of Tourism Obie Wilchcombe; Minister of State for Investments Khaalis Rolle; Chairman, Group/Rav Bahamas, Geraldo Capo and President, Resorts World Bimini Bay Bahamas, Dana Leibovitz were also present at the press conference.
Mr. Capo said that he had several discussions with the Principals of Genting in regards to doing a development in Bimini.
"I have pursued for the past three-years very strongly, to create an association, because to me they were the primary target that could bring a lot of things into Bimini Bay Resort, into the Bimini economy, and eventually to rest of The Bahamas."
He said that they eventually came to an agreement to create a casino, which Genting is going to manage.  It will be called "The Resort World Bimini Casino".  It will be a deluxe 10,000 square foot casino and they are moving to have it opened by the end of the year. Mr. Capo said, "Our resort is going to catapult the economy of Bimini; it is going to create jobs and it is going to be of a great benefit."
Mr Leibovitz said, "The magic of Bimini is what really drew us here.  Ernest Hemmingway, Martin Luther King's involvement there, the fountain of youth – it is just a beautiful island and we feel it is a great opportunity for us to build our first boutique casino outside of Asia in Bimini."
By Llonella Gilbert
Bahamas Information Services
Caption: Captions Announcement Prime Minister Perry Gladstone Christie stands while making a point during the announcement that Resorts World Genting and Rav Bahamas Ltd. will partner to create a new luxury boutique for the Bimini Bay Resort and Casino.  Sitting opposite are top executives from the two entities.  (BIS Photo/Peter Ramsay)

hotels, islands, tourism