Office Of Scholarships To Be Formed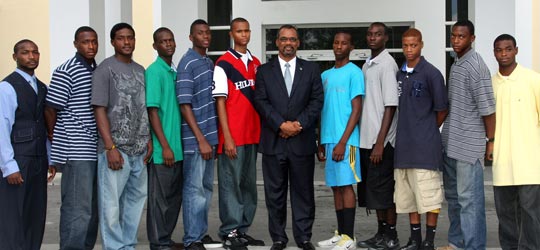 Nassau, The Bahamas – Education, Science and Technology Minister Jerome Fitzgerald announced The Government's intention to create an Office of Scholarships before September.
The plans were revealed at the first Department of Education's Sports Unit's Athletic Scholarship Recognition Luncheon on June 28 at the Ministry of Youth, Sports and Culture where 17 public high school students were awarded scholarships to continue their education.
Among those in attendance were Education Director Lionel Sands, Superintendent for high school curriculum Ross Smith and Evon Wisdom of the Sports Unit.
"The primary function of the Scholarships Office will be to search the globe for scholarships in the fields of academics, sports, music, dance and vocational careers," he said.
The students who represent New Providence schools will be attending colleges that are in partnership with the National Collegiate Athletic Association, the governing body for the largest group of scholastic athletic programmes in the world. The scholarships are for various sporting fields including track and field, volleyball, and basketball at schools and colleges in the United States.
The total amount awarded is $400,000 per year and the average scholarship given to each student is approximately $22,000 per year.
Minister Fitzgerald said the athletes are proof that academics plus athletic ability is a winning combination and they are among "the best of the best" student athletes The Bahamas has to offer.
"Their achievement is also evidence of the commitment of parents, teachers, sports coaches and everyone who supported them to this point in their scholastic journey," he said.
"To have been selected for these scholarships you must have been seen as excelling in both academics as well as athletics. The competition for these scholarships is fierce, so your determination and passion for your sport must have been obvious to those observing you," said Minister Fitzgerald.
"Just as in high school you were expected to balance academics with athletics, you will be required to do this even more so at the college level.   In other words, your sport becomes your job."
Mr. Fitzgerald said the first ever Athletic Scholarship Luncheon is an indication that a greater appreciation for student athletes is being developed. He commended Mr. Wisdom and the team in the Sports Unit for taking the initiative to recognise the students.
"By honouring our student athletes, we express not only our appreciation for them, but also demonstrate our respect for their achievement," he said.  "This being the first luncheon of this nature, I am hoping we can map out a plan to include the scholarship recipients from our Government schools in the various Family Islands in our second annual luncheon," said the Minister.
By Kathryn Campbell
Bahamas Information Services
Caption: Recipients Jerome Fitzgerald, Minister of Education, Science and Technology (centre) is pictured with some of the 17 athletic scholarship recipients. Shown from left: Jaleel Dames, Trevone Grant, Prince Braynen, Karon Pratt, D'Shawn Dean, Avery Thompson, Minister Fitzgerald, Oral Rahming, William Rigby, Lamont Armaly, Jamal Saunders and Prinston Rolle. (BIS Photo/Letisha Henderson).

educational, schools