Public School Teachers Workshop Commences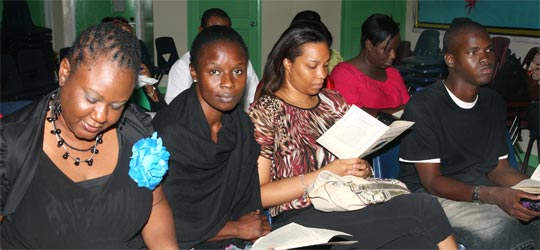 Nassau, The Bahamas – Teachers representing Government schools are participating in a Summer Workshop on the theme "Technology, Connecting the Core to the Real World". Organised by the Department of Education, the sessions are being held at Uriah McPhee Primary School.
Education Minister Jerome Fitzgerald addressed the opening ceremony on July 2. He told participants that the theme speaks to their awareness of the fact that the students live in a technology-driven era.
"Every aspect of our lives today has been changed by technology, and this includes the way our children learn, and as a consequence, the way we must teach them.
"To equip our children with the skills they will need to live successfully in this twenty-first century, teachers must embrace the myriad of opportunities and the possibilities that technology offers:   professional development from master-teachers world-wide, collaborative learning communities within and beyond your school district, viewing demonstrations and conducting experiments online. Technology has a way of expanding the learning time for both you and your students," he said.
Minister Fitzgerald challenged the educators to partner with other teachers for the purpose of electronically sharing and exchanging ideas and resources during the school year.
"In using technology to connect your work in the core subjects to the realities of teaching in an archipelago, your combined efforts will result in greater equity in our education system.
This kind of collaboration among teachers can create, rather than pockets of excellence, a plateau of excellence across this island nation," he said.
The goals of the workshop are for participants to:
Have a clearer understanding of how technology impacts student learning, and review strategies for using technology to extend learning for teachers and students.
Be able to create tools and manipulatives and understand   how to integrate them into instructional activities to improve the achievement of all learners.
Have an enhanced understanding of research-based instructional strategies for cross-curricular integration and
Garner a deeper knowledge and understanding of components of revised curricula.
By Kathryn Campbell
Bahamas Information Services
Caption: Participants in the Department of Education's Summer Workshop 2012 are shown in this photograph on July 2 at Uriah McPhee Primary School. (BIS Photo/Letisha Henderson)

educational, Internet, school