Regatta Song Winner Sends Message of 'Bahamian-Ness'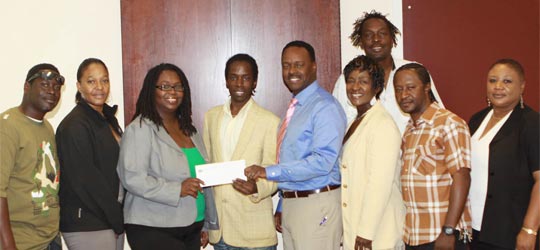 Nassau, The Bahamas – National Regatta Song competition winner Don 'Bahamadon' Rolle wants to change a "dangerous trend."
"The foreign cultures that have infiltrated our youth through music have proven devastating with their negative impacts," he observed.
His latest hit 'Regatta Time' is about pointing Bahamians to their roots.
"Bahamians need the integrity and backbone of their culture to know who they are or else they would be more susceptible to go any way that some other culture takes them," he added.
Minister of Youth, Sports and Culture Minister Dr Daniel Johnson encouraged him to continue his "messaging in song because it tells the story of us as Bahamians."
Accompanied by his producers Owen 'Ovadosa' Davis and Trevor 'Bigga-tea' Taylor, Rolle on Monday accepted his first prize cheque from Burns House.
Dr Johnson noted that his Ministry partners with young Bahamian artists to promote their products "and this Bahamian-ness that we have."
A goal of the programme, he said, is to "make sure we highlight the people who are doing the best creative Bahamian works of expression."
Bahamas Information Services
Caption: Pictured during the presentation are, from left, Colyn McDonald (judge), Kira M. Horton (Burns House retail marketing manager), Janniffer Thurston (Kalik Brand manager), Don 'Bahamadon' Rolle (winner), Minister of Youth, Sports and Culture Dr. Daniel Johnson, Angelique McKay (Ministry of Youth, Sports and Culture), Trevor Taylor (producer), Owen Davis (producer), and Cindy Gay (Regatta committee assistant secretary). (BIS Photo/Patrick Hanna)

arts, awards, culture, music, regatta