Servants Of The People Reminded Of Their Roles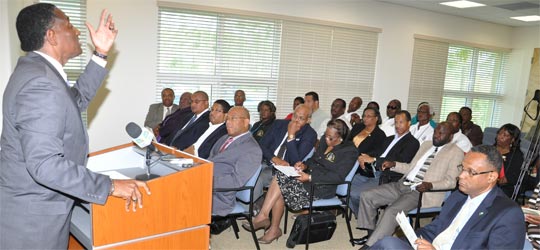 FREEPORT, Grand Bahama – Minister for Agriculture, Marine Resources and Local Government V. Alfred Gray assured elected Local Government officials of Grand Bahama Monday, that they have his full support.
He also took the opportunity to remind them that they are servants of the people and ought to know the rules in order to do their job properly.
The Minister was meeting with Councillors from the West, Grand Bahama District, City of Freeport District and the East Grand Bahama District in the meeting room of the C.A. Smith Complex.  It was his first meeting with the group since becoming  Minister back in May.
The West Grand Bahama District is headed by Chief Councillor, Mr. Rosney Cooper; Deputy Chief Councillor, Mr. Simon Lewis; and Councillors, Mr. Corey Adderley, Wilfred Bevan, Ethel Jones, Joyann Stuart-McIntosh, Philip Smith and James Vega. Secretary to the Board is Administrator Mrs. Angela R. Pratt-Rolle,
The City of Freeport District is led by Mr. Kevin Ferguson, Chief Councillor; Mr. Don Martin, Deputy Chief Councillor; and Councillors Chervita Campbell, Melvin Albury, Jennifer Ellis, Margaret Jones, William Martinborough, Solomon Morley and Derick Sands. Secretary to the Board is Administrator Stephanie Rahming.
Mrs. Albertha Cooper serves as Chief Councillor for the East Grand Bahama District and her Deputy is Mr. Floyd Feaster.  Other Council members include Riman Hield, Elvenia McIntosh, Gladstone Russell, Philip Thomas and Wilton Thomas.  The Secretary to the Board is Administrator Mr. Bradley Armbrister.
In reminding the elected officials that they are servants of the people, Mr. Gray noted that some elected officials appear to have become "little prime ministers" and some feel that they are above the people.
He cautioned against that type of attitude telling Councillors that if they follow that path they are "bound to fail. You were never elected to be an end all."
He also told the group to create a healthy working relationship with the Central Government.
Likewise, he told elected officials to respect the Family Island Administrators assigned to their district. Mr. Gray added that some believe that they are independent of the administrators and seldom speak with them.
The Local Government Minister reminded all that the Administrator is Secretary to the Council.  He also clarified that they are "not" clerical secretary.
"The buck stops with them," he said adding that they are the ones that have to give an account to the Government on the Council's spending and he cautioned Administrators against signing off on work they have not seen or work not properly done.
He also mentioned that some may have given contract for work and paid people for work which has not been done.
Mr. Gray, also a former Family Island Administrator (Commissioner) reminded his former colleagues that when the Auditors come it is them that have to give full accounting.
The Minister likewise sent a challenge to all telling them "not to get involved in things that cannot stand the light of day."
He said that transparency, accountability, integrity and commitment should be their watch words.
He told the gathering that whenever one hears the comment "if you do this for me, I will do this for you, that is when integrity should kick in.  Do things above board.  No under the table deal."
Mr. Gray told the group that is anyone ever offers him something, he would jail them and likewise told Local Government officials not to compromise their character for a dollar, and to use good judgment with the monies they get.
The Minister also warned that if someone spends the public's money without authorisation, they will be called upon to pay it back personally.  And, he reminded Chief Councillors that they have no business making decisions without his/her Councillors unless there is an emergency.
Mr. Gray also suggested that Councillors to stay in contact with their Members of Parliament as they are important persons that work for them at the national level.
He also advised that Local Government was never intended to be political and that many of the Councillors and elected members made it political.  He told all to "get over who won Government" and get on with doing the people's business.
Mr. Gray also had some good news indicating that the Government is seeking to take over some workers on contract to Local Government and make them monthly first, and try to make them permanent.
This he said would apply for individuals working in government agencies such as janitresses in schools who would have been in the system five years or more.
He said that the Government has placed some $3 million in the Budget to correct that situation.
The Minister also warned against further hiring and making people believe they will be permanent.  He reminded all that working for Council is not the same as working for the Government of The Bahamas, and they should "stop fooling the people."
Mr. Gray also used the occasion to introduce is Parliamentary Secretary, Mr. Anthony Moss, Member of Parliament for Exuma.
Councillors also heard brief remarks from the Minister for Grand Bahama, Dr. Michael Danville; Mr. Greg Moss, Member of Parliament for Marco City. and Mr. Peter Turnquest, Member of Parliament for East Grand Bahama.
By SIMON LEWIS
Bahamas Information Services
Caption: MINISTER GRAY – Minister for Agriculture, Marine Resources and Local Government, V. Alfred Gray, is pictured as he addressed Local Government Councillors on Grand Bahama Monday.   Also seated front row is the Minister for Grand Bahama, Dr. Michael Darville.

government, islands