Star Winner For Solomon's Fresh Market Design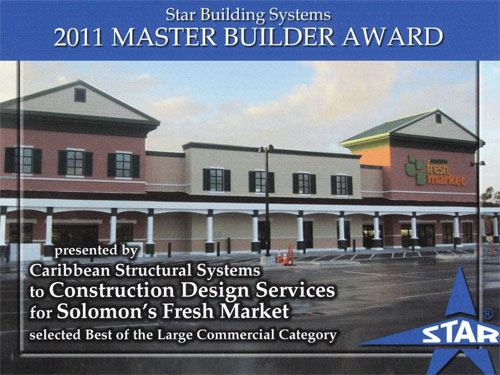 Nassau, Bahamas – Construction Design Services Ltd., a pioneer Bahamian architect company, headquartered at Lyford Cay Shopping Centre, New Providence, Bahamas, in a collaborative effort, has won the prestigious Star Building Systems- 2011 Master Builder Award voted Best of the Large Commercial Category for Solomon's Fresh Market.
Construction Design Services consists of a proficient executive team with over 50 years of combined experience and is headed by Stefan P. Russell, who previously held the position as COO has recently been named President and CEO. Construction Design Services has now earned the recognition for creating Solomon's Fresh Market Design with rigid frame structure that foster world-class architecture with unprecedented levels of form, elevations, and functionality.
"We are truly honored to have received this impressive Star award provided for best design to a Bahamian architect company," says Mr. Stefan Russell.
As the Architect of Record Mr. Russell also noted, "The work was completed last year on-time, to the customers satisfaction using Star's "cutting-edge" and leading pre- engineered metal building systems, in collaboration with affiliated local general contractors Specialty Management Group (SMG) and Design Architect Garry Harrison, of Concepts West Architecture in Colorado Springs, CO.
The Solomon's Fresh Market project, a near perfect building design with minimal correctional work was submitted for best design and build eligibility by Larry Wechsler, President of Caribbean Structural Systems, and the lead project engineer located in Coral Springs, Florida who has represented more than 25 years of experience in the Caribbean, has been an authorized Star Builder since 2009.
"Winning for best use of star method of metal building systems was pretty impressive and I was very proud to be part of a confident team that put that building together," said Mr. Wechler.
Some obstacles had to be overcome during the construction phase particularly in providing the required fire suppression systems but we were able to supply the proper equipment and appease the Building Department thus obtaining final approvals. The same was true about our final occupancy which we again overcame by providing the required services to meet code compliance for approval.
Lastly, Construction Design Services believes that because of its blessings they have a responsibility to give back to the community, and so throughout the year the firm, primarily through its new CEO, Mr. Russell, spends time with 'at-risk' young men helping them to positively impact civil society.    Moving forward Construction Design Services has plans to expand their outreach in other tangible ways to improve the lives of citizens.
Submitted By LOWENA WEST,
Public Relations and Knowledge Management

awards, construction