Three More Dead In Traffic Accidents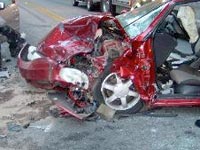 Three people are dead after they were injured in separate traffic fatalities, bringing the number of road related deaths to 24 for the year, police said.
The most recent victim was killed around 11:30 p.m. on Saturday.
Police said the 19-year-old woman was a front seat passenger in a 1999 Honda Odyssey that was heading east on Marshall Road. The driver lost control of the vehicle and hit a utility pole, police were told. The car overturned during the crash.
Although the driver escaped the accident unharmed, the teen girl was seriously injured and died at the scene.
A second person was killed around 3:45 p.m. Friday after he hit a utility pole while driving east on Joe Farrington Road.
The 45-year-old male resident of Eastwood Estates, who was driving a 2009 Suzuki van, died at the scene, police said.
Another man, a motorcyclist, died in hospital around 8 a.m. Friday, hours after he hit a truck while driving west along St. Vincent Road. The accident occurred around 11:45 p.m. on Thursday.
The 23-year-old male resident of South Beach was taken to hospital where he later died as a result of his injuries.
The deaths came a few days after 16-year-old Jimico Brown died after the car he was driving hit a pole and split in two on the Sir Milo Butler Highway. The accident occurred around 6 a.m., police said.
Taneka Thompson
The Nassau Guardian

roads, traffic