Toastmasters Club 1600 Introduces New Officers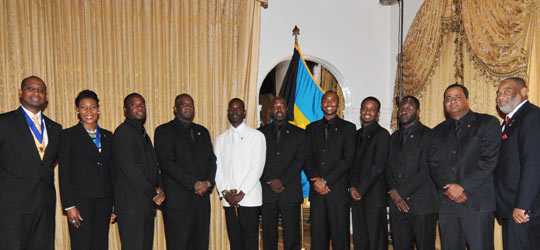 Poised and ready to take on the challenge of leadership, the 2012-13 executive team of the First Bahamas Branch of Toastmasters Club 1600 has settled into office, following a Government House installation ceremony last week.
Toastmasters – a communication and leadership organization – promotes self-development, preparing its membership to assume leadership roles in the wider community.
On Thursday, July 19, President Pedro Young and his newly elected team were inducted and pinned. The new officers are Vice President of Education Franklyn Winder, VP of Membership Valentino Munroe, VP of Public Relations Carlos Palacious, Secretary Devaughn Taylor, Treasurer Chervez Brown and Sergeant-at-arms RosNoronha.
"There is no doubt that as a country we need leaders at every level of our society to assist in correcting the social and behavioral challenges faced by so many of our young people," said Governor General, Sir Arthur Foulkes in his official written message to Club 1600.
"In this regard, I wish to encourage your membership to seek opportunities to give back and as you develop yourselves and those around you, a positive spark could be lit in your communities."
Sir Arthur expressed his gratitude to organizations like Toastmasters for their national contributions.
Last year, Club 1600 sought to "preserve our past and embraced our future." In fulfillment of  that year-long theme the organization hosted a series of educational events and social activities. This year's theme is "leading through effective communication."
"Our mission as new officers is not to be famous but faithful," said Mr Young, a nine-year veteran of Toastmasters. He promised to build on the legacy of his predecessors, who he thanked for his development in the program. He also thanked Anthony Longley and Clem Foster, both past presidents and distinguished Toastmasters, instrumental in the successful installation of new club officers.
The core unit of Toastmasters is the club, typically comprised of 20-30 members. The organization has 13,000 of them world-wide. A group of four to six clubs form an 'area' supported by an area governor and council. Four to six areas form a 'division' supported by a division governor and council.
Division I governor, Andrew Albury, says the division's success will revolve, to a large extent, around the decisions made by Club 1600.
"I urge you to prime the pump of this division and make a bold decision right now about how Club 1600 will lead this division," he said. "Decide how you will quench the thirst for a more fulfilling Toastmasters membership experience, quench the thirst for more members and goals, quench the thirst for a better division, and a better Bahamas."
Immediate past president of Club 1600, Charles Newbold III, said he's looking forward to a "stellar" year under the new executive team.
"I am confident that the Club 1600 brand will continue to provide members with the mutually supportive and positive learning environment that has produced some of our country's greatest leaders and communicators," said Mr. Newbold, the new Area 90 governor of District 47.
The all-male Club 1600 has been a cornerstone in the development of Bahamian men for decades, harking back to the days when the club's official charter issued January 1, 1969 was presented to the club's first President, Ernest T. Strachan in April of that year by Lynden O. Pindling [later Sir Lynden] who at the time was the premier of the Commonwealth of The Bahamas.
"The development of stronger men helps build stronger communities, stronger communities translate into a stronger nation and a better Bahamas," said Mr Winder, who expressed his honour in having the opportunity to serve as VP of Education.
He wasn't the only officer to tout the benefits of Club 1600.
"The personal development that I've seen since entering the great walls of Club 1600 has been immeasurable and I can only credit that to the guidance, coaching and mentoring of the great men of this club," said Mr. Palacious, the club's spokesperson.
Toastmasters Club 1600 meetings are held every Thursday at 8pm at the Sheraton.
Tosheena Robinson-Blair
Precision Media
Caption: Past and present Toastmasters' leaders pose for a picture following the induction of the new executive team of Club 1600.

business