Bahamas Makes Olympics History
The Bahamas made history at the 2012 London Olympics when it claimed its first gold in the men's 1,600-meter relay. It was the last event for the Bahamas team and they made it count.
Chris Brown, Demetrius Pinder, Michael Mathieu and Ramon Miller made up the men's 4 x 400m team, with Brown running the opening leg. Brown handed the baton and a considerable lead to Demetrius Pinder. In the third leg Mathieu slipped behind the United States but Ramon Miller overtook Angelo Taylor of the United States in the fourth and final leg and team Bahamas took the gold.
This is the fifth gold medal for the Bahamas in its Olympic history. Four of those golds have come in track and field events.
"For me, it's a joyful feeling," said Chris Brown, "It's been a long journey for me. I've been here for a long time and this is my first Olympic gold medal. I've gotten silver and bronze before. It took me a long time. The United States is a tough team to beat."
All four Bahamas gold medalists have been U.S. collegians: leadoff man Chris Brown at Norfolk State, Demetrius Pinder at Texas A & M, Michael Mathieu at Texas Tech and Miller at Dickinson State of North Dakota, where he was a 12-time NAIA champion. Miller won a silver medal at the Olympics while he was still a student.
The Bahamas clocked a national-record time of 2:56.72. The U.S. took home the silver – this is the first time the U.S. has been defeated in this race at the Olympics since 1972. Trinidad and Tobago finished third.
"The U.S. guys know we've been just behind them or thereabouts for a long time," said Ramon Miller. "It's amazing we are finally taking home the gold."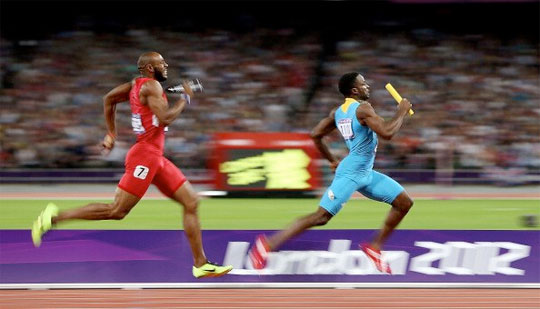 celebrities, events, sports