BTC Celebrates New National Role Models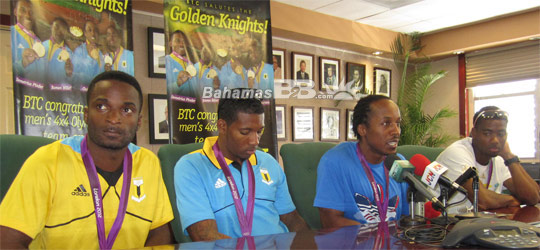 The Bahamas Telecommunications Company celebrated the victory of the Bahamas' newest sports celebrities Ramon Miller, Demetrius Pinder, Chris Brown and Michael Mathieu – dubbed "Golden Knights" and "Fantastic Four".

The four young men made history for the Bahamas when they broke the United States 20-year winning streak in the men's 4×400 metre relay at the 2012 Olympics in London and brought the gold medal home.

During the celebratory press conference on Friday, August 17, orchestrated by Diane Phillips and Associates, each of the four gold medalists received a new Blackberry Torch as a gift from BTC.

BTC is "proud to support Bahamian dreams and these gentlemen have brought those dream to life," said Tellis Symonette, BTC's senior vice president, "Not only BTC, but the entire country is extremely proud of you," he told the athletes.

(article continues below)


Mr Symonette also named all the other Bahamian athletes who participated in the Olympics this year, in acknowledgement and appreciation of their efforts, and reiterated BTC's commitment to sports, youth and the future.

Minister of Youth, Sports and Culture Daniel Johnson commended BTC for their support of the Bahamas Olympic team, recognizing the importance of good corporate sponsorship.  BTC was the primary sponsor of Team Bahamas for the 2012 Olympics, contributing over $100,000.

The minister also noted that the "Golden Knights" are an inspiration for the next generation.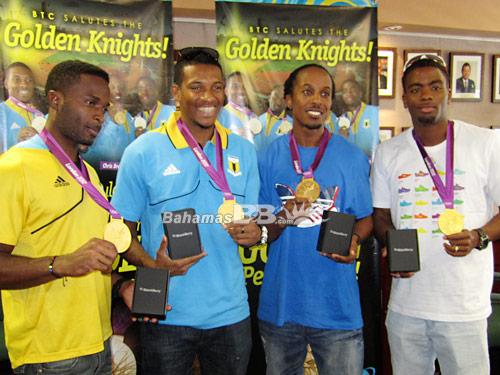 When the four athletes were asked if they acknowledge and accept their responsibility as role models for Bahamian youth, Michael Mathieu responded positively, "Yes, of course, we have to… I don't think that we have too much of a choice right now for to accept it, so yes I am accepting the responsibility and I will live up to the responsibility."
Ramon Miller sent a message to Bahamian youth to stick with their dreams and "never give up."
A special treat came at the end of the press conference when members of the Roots Junkanoo group performed a rushout.
After all the celebrations are over the boys plan to take a well deserved break during the slow sports season before they have to kick back into high gear preparing for the World Games next year. Demetrius Pinder said with all the home crowd support behind them the Bahamas might just see new national records.
Chris Brown expressed appreciation for all the support, and for the dedication of his teammates at the Olympics, ending off by saying, "It was fun."
Article and Photos by BahamasB2B News Team

athletes, awards, celebrities, community, sports, youth