Youth Expedition Ends In High Spirits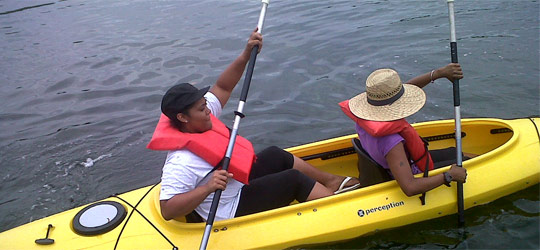 A regional youth expedition may be over but the friendships formed and the lessons learnt over the two weeks live on.
The Caribbean Award Sub-Regional Council (CASC) Adventurous Journey wrapped up Sunday (August 12), at St John's College. The official closing ceremony was held Saturday (August 11).
The event, hosted by the Governor General's Youth Award, brought 110 visitors to The Bahamas. Of that number 53 were Gold participants, that is, youths hoping to obtain their Gold Award.
The GGYA is a member of The International Award Association. Once participants have successfully completed community service engagements, mastered new skills, participated in physical activities and hiking expeditions, they are eligible for Bronze, Silver, or Gold depending on minimum time requirements.
Code name "Blue Water Run" CASC's Adventurous Journey saw participants from Guyana, Cayman, Grenada, Anguilla, Turks and Caicos, Barbados, Jamaica, St Vincent and the Grenadines, Trinidad & Tobago and Bermuda sail to three Bahama islands: Grand Bahama, Abaco and Eleuthera.
They travelled on land – through beach, forest and track paths – and journeyed by sea, via the Caribbean Sea and the Atlantic Ocean.
Guyana native, Onika Stellingburg, will never forget the experience.
"We are all from one, big area called the Caribbean and we can continue to work together as one. We can all challenge ourselves, each other, our relatives and friends and anyone else we come into contact with, to be a better person and to make positive changes in each of our lives," she said. "We are the crème de la crème, the cream of the crop and with more guidance and focus we can truly excel."
The rigorous journey towards an invisible finish line came with great physical and mental challenges, according to Nassau resident Asia Colebrooke. Strenuous activities such as kayaking, hiking, and climbing put participants to the test.
Seventeen-year-old Colebrooke shared how she made it through: "I learned to just suck it up and stop complaining."
Another 17-year-old, Cayman's José Ardila echoed similar sentiments. The once overweight teen joined the programme as a means to lose weight. That was three years ago.
"At the age of 14 I weighed 245 pounds. I'm now down to about 154/155 pounds," he shared. "My weight loss has also helped with my self-confidence. I am now more comfortable speaking in public. I'm more sociable [and] more comfortable with myself."
Self development is what CASC and the GGYA is all about, said director of youth, Darron Turnquest.
"Your time here at CASC 2012 may be done, but life has just begun," he noted. "Life is still a journey with challenges along the way that this experience at CASC has hopefully prepared you for."
During their time at CASC the youths participated in training exercises: The Pan American Health Organizaton (PAHO) Mass Casualty Management, a GGYA water safety course and an international first aid course. Just over 20 persons received an award from PAHO.
According to Denise Mortimer, the GGYA's national director, every year CASC provides a different experience. The annual event, which is in its 33rd year, is held in different locations. This year marked the third time the GGYA played host.
"In the Cayman Islands, I ended up sleeping in my tent for 14 days," said Ms Mortimer, who has participated in CASC for 15 years, 12 of them consecutive. "In Trinidad and Tobago I was given the great opportunity of going on an expedition of Tobago, which is where, on my fourth day of the expedition, I had my first encounter with a real, live snake [and] in Dominica, I visited the historic Boiling Lake."
Aside from kayaking through Grand Bahama's national parks, this year's CASC participants visited Eleuthera's Glass Window Bridge and Preacher's Cave.
Two youths were recognized for demonstrating outstanding leadership skills on the adventurous journey, Bermuda's Jovanna Douglas and Jason Curry of The Bahamas.
"It's great to be a leader, but it's always greater to be a Duker," quipped Curry, alluding to the days when the programme, now in its 25th year, was known locally as the Duke of Edinburgh's Award.
As it celebrates its Silver Jubilee the GGYA programme is stronger than ever due to a three-year partnership with the Ministry of Youth, Sports & Culture. Titled, the G.O.L.D. Initiative the partnership provides vital financial and marketing resources to the GGYA.
Consequently, the GGYA's registration numbers hover around a record 2,000 participants. Units are up and running on New Providence, Grand Bahama and seven Family Islands.
Caption Participants in the Caribbean Award Sub-Regional Council (CASC) Adventurous Journey said their farewells on Saturday, August 11, at a brief closing ceremony held at St John's College.
By Precision Media
Caption: CASC participants spent their time in The Bahamas kyaking, hiking and exploring unique sites. Excluding New Providence, they visited three other islands: Grand Bahama, Abaco and Eleuthera. Photos courtesy of the GGYA

educational, youth