Coastal Awareness On Berry Islands Beaches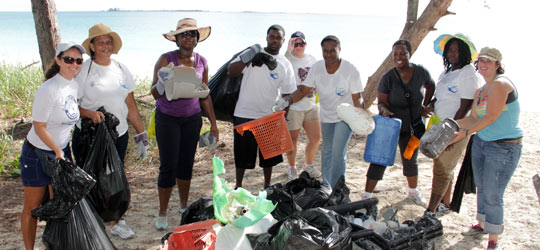 The National Coastal Awareness Committee is passionate about its mission.
And keeping the Bahamas clean, green and pristine is a cause to which they are ardently dedicated.
Joined by corporate supporters, volunteers, local government representatives and a goodly amount of youngsters, they descended on beaches on Great Harbour Cay in the Berry Islands last weekend (August 18 -19) with the zeal of a crusader.
And when they left they carted away piles of debris that were washed ashore or left by careless picnickers.
There were plastic items, oil containers, iron products, 55-gallon drums, ropes, nylon lines.
"Care of our environment is firstly our responsibility," said Earleston McPhee, head of Coastal Awareness. "If not us, who? We are the beneficiaries of it so we have to do it. If not now, when? When it is too late?"
The Berry Islands is a cluster of 30 cays lying about 50 miles northwest of New Providence,  a short hop from Grand Bahama, Abaco and Bimini. They rest on the eastern edge of the Great Bahama Bank, starting with Great Stirrup Cay and extending to Chub Cay in the south. It attracts international sports fishermen.
Great Harbour Cay, the administrative centre and home to most of the islands' local population, is the largest of them at 8,300 acres. It was once a major golf resort where the rich and famous came to play. Winter residents and second home owners flock there.
The Berries boast many miles of pristine beaches nestled along horseshoe coves. It has one of the best protected harbours in The Bahamas, Bullock's Harbour, adjoining Great Harbour Cay.
The National Coastal Awareness Committee is celebrating its 10th anniversary. It was established to create awareness and an appreciation of the social and economic value of the country's coastal resources.
"For a country of over 100,000 square miles we are very, very blessed," said Mr McPhee, "but the environment with which we have been blessed, our heritage, is very fragile.
"While sometimes we take it for granted, if we don't manage it properly, we can actually lose quite a bit of it. We need to have a better appreciation of it and take care of it."
Half of the visitors selected The Bahamas over competing destinations because of "pristine beaches and crystal clear waters," a Ministry of Tourism survey showed.
"If these beaches become inundated with garbage it will take away from the beauty of our beaches and therefore impact our tourism product," said Mr McPhee.
He is satisfied that the message is finding fertile acceptance, especially among young Bahamians.
"We are targeting mainly our youth because they are the future and if we do not educate our children today to manage our resources we are going to be in trouble," he said.
Bahamian beaches bordering international shipping lanes tend to be more polluted, he noted.
"International vessels dump a lot of debris which end up washing up on our beaches," he said.
Joseph A. Dargavage, Sr, island general manager of Great Harbour Management, welcomed the team.
"The waters of The Bahamas and around our island are extremely important. If we don't protect it today it would not be there for us in the future," he said. "Here in The Bahamas, we have some of the most amazing waters found anywhere in the world."
He told of more development coming to the Berry Islands.
"We are working on our new project which will bring a new 30-room boutique hotel to the island and restore our golf course to its original status by bringing a partner of (golf icon) Jack Nicklaus to help us redo the course," he said.
Jan Knowles, manager of public relations and communications represented the Royal Bank of Canada.
"The company has a focus on the environment," she said. "So, it is a pleasure to help and support these coastal cleanups. The Bahamas is known for its beautiful waters and anything we can do to keep this pristine and beautiful and wonderful we are happy to do it."
The Royal Bank, which has had a presence in The Bahamas for more than 100 years, also supports the Bahamas National Trust, the Andros Conservancy and Trust, the Friends of The Bahamas, and the Blue Water project to protect and preserve the fresh water lenses in the west side of Andros.
By Gladstone Thurston
Bahamas Information Services
(BIS Photos/Derek Smith)

beaches, community, environment, islands