Domestic Violence Increasing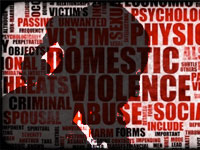 Supt Stephen Dean said officers have been canvassing communities through the Urban Renewal 2.0 programme, and have marked an increase in the number of domestic violence complaints – particularly by women, which indicates the country's domestic violence problem is growing.
He said: "We have been inundated with persons coming with disputes and conflicts."
Encouraging those in abusive situations to come forward to police, Mr Dean said a lack of conflict resolution skills is the underlying issue in most of the situations that escalate to violence.
Inspector Chrislyn Skippings said people who find they are unable deal with conflicts themselves should seek assistance at the Crisis Centre, the Department of Social Services, the Community Counselling and Assessment Unit, BASH, Teen Challenge, the Sandilands Rehabilitation Centre or the Bahamas Christian Council.
"We are asking members of the public to understand it is OK to argue, what is not OK is when you pick up something and injure someone as a result of that argument."

abuse, crime, violence, women