Judges Blast Stall Tactics Used By Lawyers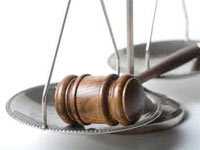 The Court of Appeal yesterday condemned the use of stall tactics by defense lawyers. Justice of Appeal Christoher Blackman said, "This gamesmanship must stop. This is an abuse of the constifutional right [to counsel of a defendant's choice] that you affirm."
Blackman said that the practice of counsel sending other lawyers to seek adjournments for them "is frustrating the process of dealing with the backlog of cases we have in the system".
The judge made his remarks during an application for bail pending appeal by Jacques Wells, who was finally convicted of drug possession with intent to supply after a trial that lingered in the system for 10 years.
The magistrate sentenced Wells to 18 months imprisonment. He will serve an additional six months if he does not pay a $1,000 fine.
Court President Anita Allen said Wells appeared before the magistrate 47 times during the trial.
In making his application for bail, defense lawyer Geoffrey Farquharson complained that the presiding magistrate did not adjourn the case, although Wells' lawyer had sent a letter requesting an adjournment because he was in a superior court.
The magistrate who adjourned the matter seven times for the defense to present its case proceeded in the lawyer's absence. By the time the lawyer arrived, the magistrate had already convicted and sentenced Wells.
Justice of Appeal Stanley John said that the lawyer should have made arrangements for someone else to represent his client.
He said, "Counsel must take  their responsibility to their client more seriously. Matters are fixed and they agree to the dates and then you hear they take another brief."
The Court refused the bail application and expedited the appeal to September 3.

corruption, courts, judges, law, lawyers