Bahamas Financial Woes Serious As A Hurricane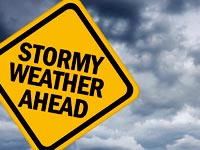 The Bahamas' fiscal woes are in danger of becoming "a real millstone around the nation's neck", a key Ministry of Finance consultant has said, adding that Wall Street's alarm bells should be treated "as seriously as an approaching hurricane".
James Smith, a former minister of state for finance and Central Bank governor, told Tribune Business that "with or without" Standard & Poor's (S&P) move this week to cut the Bahamas' economic outlook to 'negative', the country had no choice but to tackle the Government's mounting financial problems.
Suggesting that the first step was to develop a concrete plan to address the $4.456 billion national debt, and share this with the Bahamian people, Mr Smith said the Government over the past two years seemed to have been paying more than warranted to service its foreign-held debt.
Agreeing that S&P's move was "really not unexpected", the now-CFAL chairman told Tribune Business: "I think what they've done, in effect, is literally give us an opportunity to take stock and come up with some plan.

financial, hurricane