Bahamas Historical Society Announces Events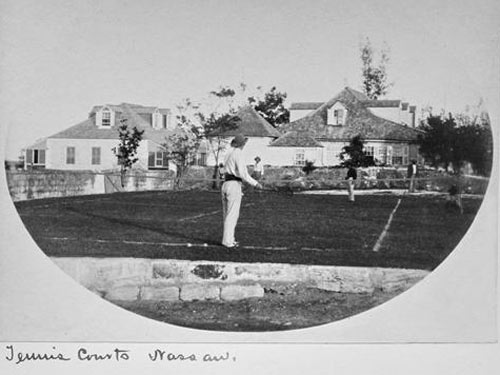 I am now certain that the house behind (to the east of) the tennis court is Glenwood, originally the home of Chas. E. Bethell, then later Mrs. A W Erickson. It was on East Hill Street, at the top of the Frederick Street Steps. The house to the left is 'Hill Crest', the Moseley home where Edwin Chas. Moseley produced the Guardian for many years. It was adjacent to the top of the Frederick Street. A picture of both houses can be seen in Reminiscing I, pg.7.
The tennis court became the eastern yard of the Kirk's Manse, built in 1894.
Ron Lightbourn
Shakespeare in Paradise at The Bahamas Historical Society Museum (excerpt from SIP committee)
Speak the Speech is a new work created by Philip A. Burrows and compiled by Nicolette Bethel. Research for this work comes mostly from the College of The Bahamas with help from Stephen Aranha, Christopher Curry, Clifford Rahming, Michael Stevenson, Nicolette Bethel and her students.
Other research help comes from Reva Cartwright-Carroll, Dr. Gail Saunders and Philip A. Burrows. This production will consist of a series of speeches and correspondences from the landfall of Christopher Columbus to the present day Bahamas. Toni Francis, Nicolette Bethel and Philip A. Burrows will handle the staging for this work.
Appropriately, this production will take place at  The Bahamas Historical Society Museum and performance dates will be the 8th, 10th, 11th and 13th at 8:00pm.
Tickets for Shakespeare in Paradise productions are $25. We also offer discount ticket rates for students, seniors and groups. We believe that the best deal is our Season Ticket that gives you the opportunity to see all five productions with a savings of $25.
The Box Office for Shakespeare in Paradise will open on September 17th at the Dundas Centre and will run Monday thru Saturday from 10:00am to 4:00pm until October 13th, the closing day of the festival. If you have questions about advance bookings please feel free to contact us at 431-7197. A full calendar for the festival will be posted online soon.
Thursday 25th October at 6pm – Anne Lawlor will present "Creolizing Tempos in Bahamian History"
Jim Lawlor, Bahamas Historical Society

events, history