Bahamas Striping Entrepreneur Addresses Youth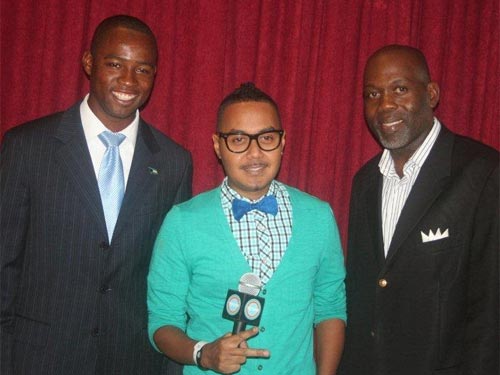 Freeport, Bahamas – "In order to be successful in life, hard work is the name of the game." That's the advice offered by Bahamas Striping President Atario Mitchell to Grand Bahamian students before the start of the academic year. The young executive addressed students attending the "Dare To Be Different" forum held at Workers House in Freeport, Grand Bahama.
The event was designed to inspire and empower the youth to become productive citizens once they complete high school. Mr. Mitchell—who lived in Freeport for about two years—knows the challenges of succeeding professionally in the Bahamas' competitive business market. He explained to the students how valuable it is to obtain a quality education and how "being different isn't bad." The Bahamas Striping president admonished the students that "if you want to be successful, following the crowd isn't the best option." He also added that "school students are sometimes protected from the dangers in life. But once school is over that's really when the hard work begins."
With nearly 275 students attending, Mitchell shared his experience in building his striping business from the ground to become one of the most successful small businesses in the Bahamas. Now he employs 13 young men, enabling them to acquire skills in a career that they never thought of venturing into. Mitchell's company has remained ahead of the pack for about two years now.
Mitchell was among a cadre of dynamic community leaders speaking to the youth at the "Dare to be Different" Back to School Workshop and Gospel Concert organized by Grand Bahama's Kingdom Encounter Ministries International. He partnered with other talent including Bahamian Gospel Artists Rumah, Kyle King, Da Element, The Chose 1, International R&B/Gospel Star Curtis Jordan and TEMPO Television's "Rise and Shine" Host, Jamie Thomas. TEMPO will produce several shows featuring the event, to be broadcast throughout the region. Mitchell was elated for the opportunity to help steer the Bahamian youths in the right direction.
Having completed over 50 successful projects, many industry professionals and engineers now regard Bahamas Striping as the leading road and car park marking company in the Bahamas.  With its motto of "Striping for Bahamians By Bahamians" the two-year old company is unique in being able to offer thermoplastic and traffic paint solutions at engineer-approved international standards. The successful Self Starter Program award winner continues to help communities, and to develop and empower young Bahamians for the benefit of Bahamian society.
For more information, see: www.bahamasstriping.com
By Bob Bower
Caption: At the "Dare To Be Different" Back to School Workshop and Gospel Concert recently held in Freeport, Grand Bahama, Bahamas Striping President Atario Mitchell (left) collaborated with TEMPO's Rise and Shine President, CEO and Producer Jamie Thomas (middle) and Apostle Allen Albury, Senior Pastor of Kingdom Encounter Ministries International (right)

business, educational, entrepreneur, youth