Plans To Educate Youth On Healthy Social Behaviour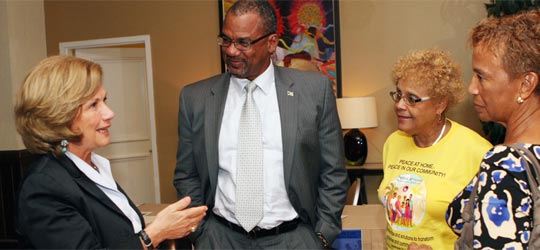 Nassau, The Bahamas — "I wish to commend the Bahamas Crisis Centre and Dr. Sandra Dean-Patterson its director, for answering the call to revolutionise the fight against teen dating and violence in such a creative way," said Minister of Education, Science and Technology Jerome Fitzgerald, September 19.
Minister Fitzgerald was the Crisis Centre's Peace at Home, Peace in Our Community Conference.
"We at the Ministry plan to become even more proactive in educating our students about how to build healthy relationships and stressing its importance as a key component in nation building," the Minister said.
Minister Fitzgerald told the participants that by forming partnerships with international crisis centre's and organisations such as Men Can Stop Rape, who share the singular goal of creating cultures free from violence, is a demonstration and recognition that this problem is not unique to The Bahamas, but that it is a regional and global challenge, which requires collaboration, commitment to common purpose, resolve and public private partnerships.
"One challenge we face is how best to educate our students how to prevent and stop unhealthy behaviour during dating and other social activities. The teen years are a period when young people explore their masculinity and femininity and they test the concepts of respect and equality and explore various forms of communication. It is important then for young men and women to have a healthy view of each other. They must learn to build relationships based on trust and honest and clear communication," Minister Fitzgerald said.
He said the 2008 report from the National Advisory Council on Crime, headed by Bishop Simeon Hall, placed great emphasis on youth development. The report details several recommendations including strengthening and development of community centres and after school programmes, the promotion of positive lifestyles and culture for young people, supporting and expanding existing parental training and strengthening and making mandatory, the family life education studies programme in all schools.
"At the ministry we recognise the need to place more emphasis on programmes developing healthy relationships. I believe that the Men of Strength Clubs seek to advance many of these objectives that will help to develop male students in our schools."
The Minister thanked the relevant stakeholders for the commitment to teaching young males in the different organisations how to become quality men making positive contributions in our community.
"I believe we must take a broader approach" Minister Fitzgerald said "to educating our children in how to deal with healthy relationships with their peers."
By Sterlin Strachan
Bahamas Information Services
Caption: Minister of Education Jerome Fitzgerald chats with participants in the Regional Peace Conference September 19,  at Sheraton Cable Beach Resort. Pictured from left: Ms Anita Botti, keynote speaker; Minister Fitzgerald; Dr. Sandra Dean-Patterson, Director, Bahamas Crisis Centre and Gwendolyn Knowles, St. Christopher's Church, Social Outreach. (BIS/Photo Raymond A. Bethel)

community, educational, family, society, violence, youth