Blue Marlin Resort Opens in Grand Bahama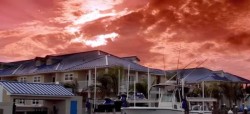 WEST END, GB – Still recognised as the official capital of Grand Bahama Island, the settlement of West End can boast of having a new resort, with the opening of the Blue Marlin Cove Resort and Marina at Bootle Bay on Thursday.
Built originally as a 30 condominium unit, the upscale renovated property now boasts some 30 bedrooms 2 ½ bathroom suites, a private marina with 30 slips, swimming pool and spa, restaurant, recreation centre and conference space.
The capital investment in the resort by the American owners, Joe Rieger and Frank Levy is said to be around $10 million.
The boutique hotel will cater to a mixture of guests including fishing and boating enthusiasts, businessmen, locals and others looking for a relaxing atmosphere in a turn key facility whose rooms are tastefully decorated and equipped with all the amenities.
The facility will also be marketed as a high tech and comfortable location where busy executives can unwind or attend conventions and enhance their professional skills through the use of distance learning technology, the Prime Minister pointed out.
The resort will continue the legacy left by the late Bonefish Foley, an outstanding Bahamian fisherman who resided at West End and catered to a number of distinguished world leaders and visiting guests and businesspersons.
An important feature of the resort's annual calendar of events will be the Annual Bonefish Foley Inshore and Offshore Fishing Tournament.
Likewise the resort will be marketed as Grand Bahama's premier bone-fishing centre and management has hired Tommy and Carl Rolle, better known as the "Bonefish Foley Sons" to begin that venture.

business, grand bahama, resorts, tourism, travel