Colina To Host Red Ribbon Ball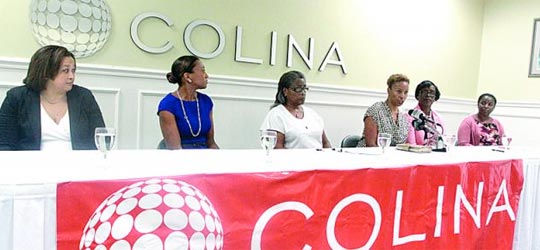 Colina Insurance Limited will host the 19th annual Red Ribbon Ball on November 10. The ball is a major fundraiser for the Bahamas AIDS Foundation and since its inception in 1994 has raised $850,000.
"Our support of this cause is deeply rooted in the Colina legacy," said Sandra Smith, co-chairperson of the ball.
"It is a cause that few would touch back in 1994, but we knew that it was a cause that needed a champion, and so we decided to take the lead and stand with the Bahamas AIDS Foundation, to create an event that would allow corporate Bahamas and individuals to show their support. Over the last 18 years Colina and its partners have built the Red Ribbon Ball into the premier ball of the season, and a major contributor to the important work of the foundation." The ball will be held under the theme "An international affair".
Smith said community support is vital in regards to educating the public on the "realities of living with the disease, combating prejudice and promoting HIV testing."
President of the foundation Lady Camille Barnett said its initiatives are extremely expensive to operate.
"We could not do these programs without the funds we get from the Red Ribbon Ball," she said, highlighting an after-school program for students which occurs every evening. Students are tutored, fed and also undergo psychosocial intervention.
"We are working with children infected and affected by HIV and AIDS, and the challenge with some of the children is they are not taking their medication," she said.
"We have a holistic program that we operate which includes a psychosocial component, helping them to build their self-esteem.
"So its a holistic program and its aim is to get these children to feel good about themselves, to give them hope, to give them a reason to go on, and to give them a reason to take their medication to live to 102, if they take their medication."
Sponsors of the event include Atlantis, John Bull, SunBound, American Airlines, Karma Design and Colina.
Travis Cartwright-Carroll
The Nassau Guardian
Caption: Lady Camille Barnett, president of the Bahamas AIDS Foundation (third from right), brings remarks at a press conference announcing the date of the 19th annual Red Ribbon Ball in support of the Bahamas AIDS Foundation. Also pictured is (from left) Camille Hanna, general manager of SunBound; Inga Bowleg, director of business development, John Bull Limited; Nurse Marva Jervis, managing director of the HIV/AIDS Center, Lady Barnett; Sandra Smith, co- chairperson of the Red Ribbon Ball and DeAndrea Lewis, Red Ribbon Ball Committee member. EDWARD RUSSELL III / TNG

charity, health, insurance