Declining Socio-Economic Conditions Blamed for Rise in Youth Violence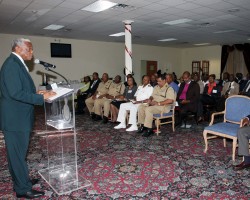 Declining socio-economic conditions are among the key factors that have led to an increase in youth crime and violence within the region, Minister of National Security, Dr. Bernard J. Nottage said Tuesday.
Dr. Nottage was addressing the Opening Session of a Joint Meeting of Bahamian/CARICOM and United States Agency for International Development (USAID) officials at the Paul H. Farquharson Centre.
Dr. Nottage said research has shown that several factors influence the incidence of crime and violence in any society including poverty and inequality, unemployment and underemployment, the growing economic gap between the rich and the poor, a lack of "judicious parental guidance" and the reluctance to pursue positive opportunities.
"Youth violence is more than a security concern," Dr. Nottage said. "The involvement of youth in crime and violence has been linked to other developmental issues including poor educational opportunities and feelings of exclusion from the governance process."
Dr. Nottage said a United Nations Office on Drugs and Crime (UNODC) and the World Bank 2007 Report on "Crime, Violence and Development, Trends, Costs and Policy Options in the Caribbean," states that crime and violence are a developmental issue having both direct effects on human welfare in the short-term and economic growth and social development in the longer term.
"(While) unemployment and the high cost of living are not in themselves predictors of ordinary criminal violence, they increase the vulnerability and the risk of violence," Dr. Nottage said.
"The emotional frustration arising from the social exclusion associated with unemployment or low income has been linked to aggression among youth and may motivate crimes such as homicide. Low levels of educational achievement have also been identified as a socio-economic risk factor for the involvement in violence," Dr. Nottage added.
Addressing delegates attending a two-day Regional Workshop on a National Consultation in Youth Crime and Violence that opened Tuesday, September 25 at the Paul H. Farquharson Conference Centre, Dr. Nottage said limited socio-economic opportunities are a "push factor" for violence.
"Because of the lack of legitimate socio-economic opportunities, young people are vulnerable to recruitment into a vibrant, illegitimate economy fuelled by gangs, including those involved in the drug trade," Dr. Nottage said.
"The increase of technology and global access to information, combined with the changing face of the traditional family structure has resulted in a large number of young people, who, while technically smarter and more astute, lack the fundamental discipline and support most commonly seen in the traditional, two-parent families," Dr. Nottage added.
Dr. Nottage said responses to youth crime and violence, therefore, must address the structural, societal, community and individual risk factors that account for youth violence.
"This national consultation on youth crime and violence will address partnering for prevention and social development," Dr Nottage said. "The effort will only be successful if there is cooperation and partnership working across ministries and between authorities, community organisations and other non-governmental organisations, the business sector and private citizens."
By Matt Maura,
Bahamas Information Services
Photo Caption: Minister of National Security, Dr. Bernard J. Nottage delivers the keynote address at the start of a Regional Workshop on youth crime and violence which opened Tuesday, September 25, at the Paul H. Farquharson Conference Centre, Police Headquarters. The two-day workshop is being held simultaneously with an Anti-Gang Workshop, as law enforcement and other agencies meet to address these critical areas impacting the region. (BIS Photo/Letisha Henderson)

crime, violence, youth