Government Feigns Attention to Infant Mortality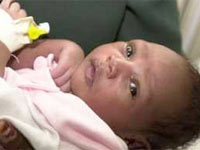 After ignoring their committments to the United Nations for years, The Bahamas government is working intensely to reduce the rate of infant mortality to meet the UN's Millennium Development Goals.  The deadline is 2014.
This comes after a horrific and embarrassing situation at the government-operated Princess Margaret Hospital in which two babies died due to incompetent administrators and lazy maintenance crews.
A deadly virus, caused by filthy air-conditioning equipment, spread through the Neonatal Intensive Care Unit in July.  Eight infants tested positive and two babies died as a result of the infection.
Minister of Health Dr. Perry Gomez told a reporter at the time that he was too busy to deal with the situation.
In typical Bahamian fashion, no hospital administrators were ever punished for the negligent homicides they were responsible for.
Gomez, who was on his first official visit to Grand Bahama since taking on the post, admitted that the country's infant mortality rate as it stands remains too high.
"The millennium development goals four and five relate to maternal and infant mortality and we are looking at our statistics for the country to ensure that we will meet the criteria that they have set," he said.
Gomez noted that in terms of meeting those goals, the number of infant deaths have been as high a 25 in one year.
"We have been hovering around 18 to 20, which is much too high. The preliminary figures we have for a year ago is around 12, so that is the right direction," he said.
Dr Gomez, who toured the facilities at the Rand Memorial Hospital and Hawksbill, is "talking the talk", like so many Bahamian politicians do, but it remains to be seen if he will "walk the walk", like so many Bahamian politicians do not.
The last time the PLP was in power, from 2002-2007, they made all sorts of promises that they would address infant mortality.  The Health Minister at the time, Dr Bernard Nottage, said many of the same things Dr Gomez is saying now.
But, wise Bahamians know that politicians' promises are only so much snake oil.

government, health, incompetence, United Nations