Government High School 1987 Hosts Fun Day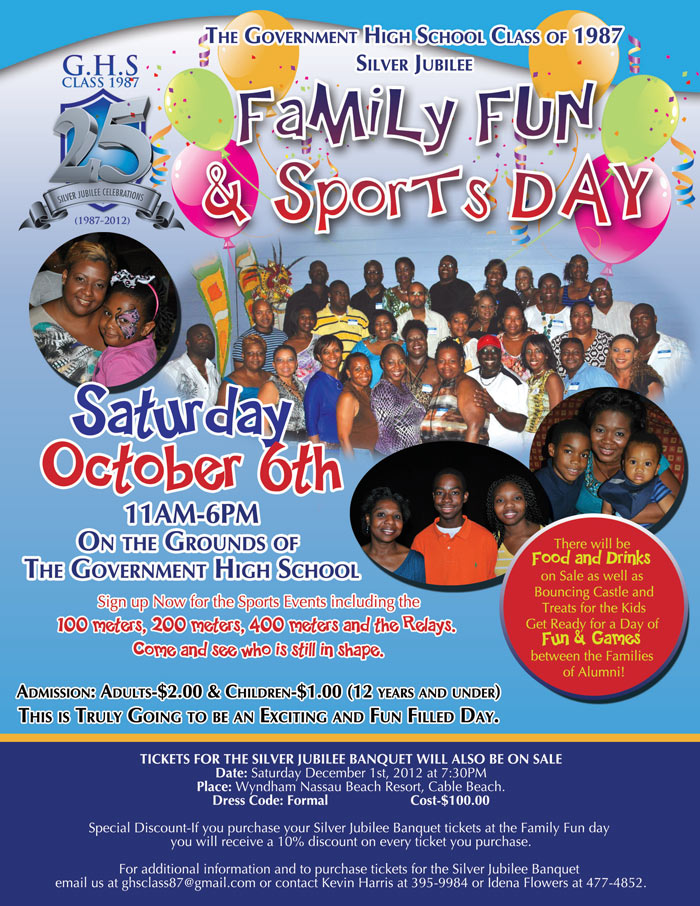 The Government High School Class of 1987 will host their Silver Jubilee Family Fun & Sports Day on Saturday October 6th from 11am-6pm on the grounds of the Government High School, Yellow Elder. The alumni committee is planning a fun filled day designed to ensure that families of alumni have a great experience.
"Many of our alumni have indicated to us that out of all of our year long activities, the family fun & sports day is by far one of their most anticipated events. I believe it is because this event in particular will allow them to bring their individual families especially their kids and also since the event will be held at the Government High School, many are excited to show their children where they went to school" says the alumni committee chairman Kevin Harris.
There will be food and drinks on sale as well as a bouncing castle and treats for the kids. There will also be a number of competitive fun events like the egg & spoon and three legged races as well as the100 meters, 200 meters, 400 meters and the relays. Admission for adults is $2.00 & Children 12 years and under is $1.00.
The Class of 87 will conclude the year with their Silver Jubilee Banquet which will be held on Saturday December 1st, 2012 at 7:30pm at the Wyndham Nassau Beach Resort, Cable Beach. Tickets for the banquet will also be on sale at the family fun & sports day. For additional information and to purchase tickets for the Silver Jubilee Banquet email us at ghsclass87@gmail.com or contact Kevin Harris at 395-9984 or Idena Flowers at 477-4852.
Harris Media Group

events, schools