International Coastal Cleanup Makes Big Impact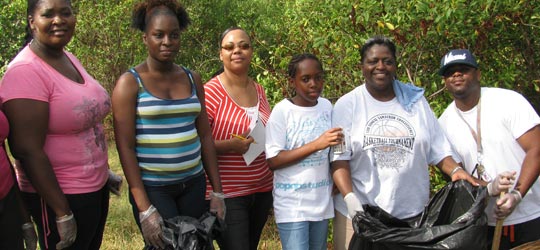 NASSAU, BAHAMAS – More than 500 volunteers from all walks of life turned out to participate in the 27th Anniversary of International Coastal Cleanup in New Providence. To date, this global initiative has helped remove over 153 million pounds of marine litter from more than 312,000 miles of coastlines and waterways since it began 26 years ago.
International Coastal Cleanup is the world's largest one-day volunteer event created to prevent and eliminate pollution of the marine environment.  This year, volunteers in New Providence and Grand Bahama turned out to clean-up their respective beaches and wetlands.   The event, which began as a local program in Texas, has gradually expanded to include every major body of water in the world in over 100 countries, including The Bahamas. Abaco will be holding their clean up on September 21st.
"We had an incredible turnout for this year's cleanup. So many volunteers from the local community, corporate and civic organizations, students and concerned neighbours came out  in force to help rid Yamacraw Beach from more than 7,600 pieces of trash," said Linzi Knowles-Belton, education supervisor at Dolphin Encounters which is the National Coordinator of International Coastal Cleanup in The Bahamas.
"In New Providence, we cleaned Yamacraw Beach and found everything from mattresses, car parts, construction materials and so much more. Volunteers also cleaned in Grand Bahama. Each volunteer was determined and together we made a huge impact. We also sent the message that we don't want trash to destroy our environment. It took many people working as a unified team to make a real difference and we thank everyone who participated. We hope our efforts will be supported by all by putting trash in its place."
Volunteers combed the beach, shrubs and mangroves of Yamacraw for four hours. The top ten debris items collected included construction materials, picnic items (cups, plates, knives, spoons), beverage cans, food wrappers and containers, plastic and glass beverage bottles, caps, lids, paper and plastic bags, cigarettes, and clothing.
A wide array of volunteers participated including Melanie Griffin, M.P. for the Yamacraw  Constituency and Minister of Social Services.
"Myself, and members of the Yamacraw constituency, attended the clean up last year and again this year to show our support for the importance of keeping our environment clean," said the Honourable Melanie Griffin. "When you have the opportunity to avail yourself of the wonderful waters and beaches of our country you have also to be respectful of our environment and to protect it for all future generations. Exercises such as this cleanup are important and I commend everyone involved."
Celeste Marshall, the reigning Miss Universe Bahamas, also came out to clean and participate in International Coastal Cleanup. "Cleaning up the environment is very important to me which is why I wanted to attend today. It's vital that we keep our beautiful country clean for each Bahamian and also our tourists who visit our islands especially because of our incredible natural beauty."
Also participating in the clean up were volunteers from: Atlantis Club Rush; Boys Brigade; College of the Bahamas; Members of Delta Sigma Theta; Dolphin Encounters; the Rotary Club of East Nassau, the Bahamas National Trust; Inner Wheel of East Nassau; National Coastal Awareness Committee and Rotaract.
Students from many schools that participated in the GGYA program or their environmental clubs also took part including students from: C.C. Sweeting; C.I. Gibson; College of the Bahamas; C.R. Walker; C.V. Bethel Senior High School; Boys Brigade;  Government High School; GHS Interact Club;  H.O. Nash; Jordan Prince William; Kingsway Academy; Mt. Carmel Preparatory Academy;  Nassau Christian Academy; Queen's College; St. Andrews School; St. Augustine's College; St John's College and Temple Christian.
"The students of the GGYA truly embrace this clean up both in Nassau and the Family Islands," said Denise Mortimer, National Executive Director of the Governor General's Youth Award Programme. "Part of their responsibility of being a member of the GGYA is to keep the environment clean and to respect our country code which includes leaving an area cleaner than you meet it. By cleaning the beach and learning about the destruction waste causes to our natural resources, they learn the importance of keeping our environment clean."
After hours of cleaning up volunteers sorted their refuse by type and wrote down their findings on detailed data cards. The data cards will be submitted to the Ocean Conservancy to help them continue to track common types of litter and try to prevent these items from ending up on coasts in the future.
This year's sponsors for the New Providence event included: Aquapure, Bahamas Food Services, Bahama Islands Info, Bahamas National Trust, Bahamas Waste, Bahamas Wholesale Agency, Bapak, Bahamas Experience Tours, Chelsea's Choice, Chilly Willy Ice, D'Albenas Agency, Dan Knowles Tours, Derek Smith, Dolphin Encounters Ltd., Elizabeth Estates Police Station, Island Cellular, John Taylor Trucking, Johnson's Charter Service, Leisure Tours, Lowe's Wholesale, Majestic Tours, Nassau Hotel and Restaurant Supplies, Online Bahamas Weekly, Ports International, Purity Bakery, Thompson Trading, T and K Trash Removal, Town Centre  Mall, ZNS Community Page, The Mall at Marathon, Waste Not/Cans for Kids and The Department of Environmental Health Services.
Coca-Cola is the global sponsor of ICC and the Caribbean Bottling Company, the producers of Coke in The Bahamas, sponsored the event in Nassau, Grand Bahama and Abaco.
"Coca-Cola has supported ocean and waterways cleanup efforts for 17 years and we are pleased to see the program develop further," said Walter Wells, President & CEO of Caribbean Bottling Company. "We have committed ourselves to improving the quality of life in the communities where we do business and the Ocean Conservancy's International Coastal Cleanup is a perfect fit for The Bahamas. This event drives home the important message of keeping our environment clean."
"The International Coastal Cleanup engages people to remove trash and debris from the world's beaches and waterways, to identify the sources of debris, and to change the behaviours that cause pollution," added Robert Meister, Managing Director of Dolphin Encounters. "The event isn't just about pollution clean-up it's about pollution prevention. International Coastal Cleanup focuses on educating and empowering people to become a part of the marine debris solution. We thank each and every volunteer and sponsor that participated – you each made a valuable contribution to our environment. As a coastal community keeping our ocean and waterways clean is vital to our environment and way of life. Together we can preserve our coasts and create a "sea of change."
Dolphin Encounters – Project B.E.A.C.H. holds beach cleanups throughout the year – contact Annette Dempsey at 363-7180 ext. 303 or email education at dolphinencounters.com for more information. Or visit www.dolphinencounters.com. To learn more about International Coastal Cleanup visit www.oceanconservancy.org.      
Ten Top Items Found on Yamacraw at the 2012 ICC
Cups, Plates, Forks, Knives, Spoons – 1,389
Beverage Cans – 1,232
Glass Beverage Bottles – 796
Plastic Bags – 687
Paper Bags – 610
Plastic Beverage Bottles – 596
Food Wrappers/Containers – 576
Caps, Lids – 522
Clothing, shoes – 265
Straws, Stirrers – 178
Submitted By Kelly Meister

beach, community, environment, marine