Mario Carey Touts Baha Mar Potential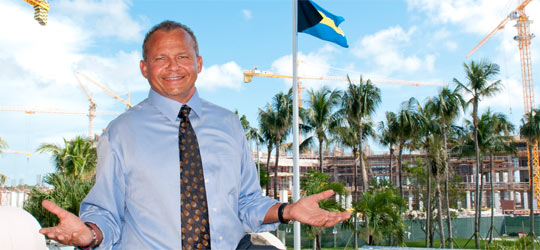 One week after Mario Carey Realty hosted a formal Baha Mar Residence presentation in The Bahamas, the firm's founder reported the first local sale of a residential unit in the $3.5 billion resort enclave
"We're very excited about this sale," said Carey, "because all of the sales prior to this were made abroad and this sale reflects a quick response to the appreciation of Baha Mar's investment value for Bahamian citizens and residents."
Mario Carey Realty, one of seven real estate firms approved to handle Baha Mar residential transactions, hosted a presentation in conjunction with Baha Mar Senior Vice President, Rick English, at Baha Mar's offices August 24. The signed contract was presented within a few days. Several other people submitted deposits, demonstrating interest and good faith intentions.
"We knew that interest was keen when nearly every invited guest turned out for the event despite Tropical Storm Isaac bearing down on Nassau that evening with high winds and heavy rains," said Carey. "Those must have been winds of good fortune. I think many of the guests remembered the impressive investment value of Kerzner International when Bahamians rushed in and bought up lots in Ocean Estates. By the end of the first day, values had increased. Baha Mar is an even larger project and being the newest in the region and including such a wide variety of hotel accommodations and fine amenities, it is likely to attract tremendous attention. I am not sure that Bahamians fully grasp the sheer scope of the Baha Mar project and how it will transform our economy, our visitor base and a large section of New Providence." Carey added.
Carey has called for an urban development plan to be created around the Baha Mar area, a planned zone with CCTV security, attractive lighting, landscaping and commercial zoning to create what he believes can be a vibrant town-like atmosphere with Bahamian entrepreneurs meeting the needs of Baha Mar guests, residents, staff and the local population. He envisions a lively, vibrant surrounding zone with book stores, cafes, boutiques and service establishments ranging from a dry cleaning business to an after school care facility, day spa and fine dining.
The Residences at Baha Mar include 307 luxury residences and villas with starting prices of $1.2 million. Some 51 of those had already been sold following showings in Asia, the UK and in the Middle East, with the Mario Carey Realty sale representing the first to a Bahamian.
Diane Phillips & Associates
Caption: Touting Baha Mar Residences Potential Nets 1st Bahamian Sale —   Realtor Mario Carey reported the first local sale of a Baha Mar Residence, one of 307 starting at $1.2 million in the resort complex transforming Cable Beach into the Bahamian Riviera. (Photo by Derek Smith, Jr. for DP&A)

Baha Mar, business, real estate