Sanpin Motors Sponsors 'Beautiful' Album Release Concert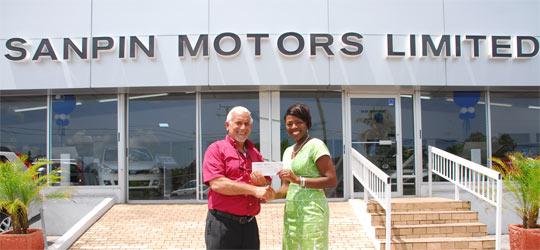 Nassau, Bahamas – Local auto dealership Sanpin Motors served as the title sponsor for multi-talented gospel recording artist Lynn Terez Davis recently held album release concert- "Beautiful".
According to Harris Media Group CEO Kevin Harris "The event was a huge success and it could not have been possible without the support and assistance from corporate sponsors like Sanpin Motors".
This is not the first opportunity that Sanpin Motors and Terez has worked together. Terez well know character Dynamite Daisy is a spokesperson for the Kia Soul model and has appeared in several ads for the company promoting the very popular vehicle.
Submitted By Kevin Harris,
Harris Media Group
Pictured during the cheque presentation is Sanpin Motors Sales Manager Andrew Johnson and Lynn Terez Davis. (Photo by Torrell Glinton for Harris Media Group)

autos, business, charity, events, music