Alleged Mafia Member Financed Former Curacao PM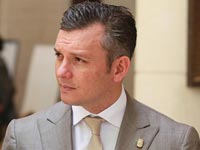 Six documents have been published on a new whistleblower website curaleaks.org disclosing bank statements and transactions connected to Cicely van der Dijs, former Curacao Prime Minister Gerrit Schotte's partner.
According to the documents, on June 14, 2012, van der Dijs received $73,422 from Betplus Giocolegale, which is reportedly owned by Francesco Corallo, who is wanted in Italy for organized crime/transnational crime and fraud, according to Interpol's 'most wanted' webpage.
On June 15, 2012, the same amount was transferred to Schotte on his bank account in Curacao.
Another $140,000 was transferred to van der Dijs from Betplus Giocolegale on May 14, 2010. Schotte and van der Dijs flew to Miami to withdraw these funds on June 6, 2010. On that day they withdrew $120,000 at Citibank.
On May 17, 2010, there was a transfer of $15,000 to No Brand Ltd, which also belongs to Schotte.
Source: Caribbean News Now!

mafia