Hinsey Named Top Customs Officer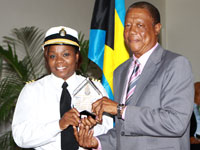 Senior Customs Officer Dellarese Hinsey was named Employee of the Year at Bahamas Customs Department during their Award Ceremony, October 22, 2012, at Customs House. She has worked at Customs for 27 years.
The Bahamas Customs Department was celebrating their nationwide Promotion Exercise for some 162 Trainee Officers to the rank of Grade 2 Officers.
She is pictured receiving her award from Comptroller of Customs Charles Turner. (BIS Photo / Patrick Hanna)
By Bahamas Information Services

awards