Lab Network Embraces Animal Health Strategies to Improve Human Health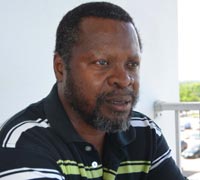 Securing optimal health has lab professionals concerned at the Rand Memorial Hospital in Freeport, Grand Bahama.
By studying the impact of both people and animal movement in The Bahamas, it can be determined how both beings can participate in the same food chain and still safely share the environment.  This phenomenal process allows or a person's internal environment to impact the external environment, both medically and chemically.
"Basically, what we are trying to do right now is quickly place a plan which is going to be a part of the National Strategic Plan for Laboratories,"  said Arnold Davis, Lab Manager at the Rand Memorial.
Mr. Davis said several categories are being looked at, which involves equipment use, communication, inter-laboratory collaboration and surveillance. A National Strategic Plan Laboratory Workshop was held September 24-28 at the Ministry of Health Cafeteria with the view of forming strategies to continuously strengthen the National Laboratory system.
"Several types of laboratories are associated here," said Mr. Davis.  "We have the clinical laboratories.  The veterinarians were here and they were talking about having a vet lab.  They're looking at issues  with animals."
He said it is unfortunate that many people just think about human health and not really understanding that human health is only as good as animal health and plant health because animals eat the same plants as humans.
"If the animals are not healthy, then we are not healthy," said the lab manager.  "So the veterinarians are very adamant about getting a veterinarian lab in place."
Mr Davis believes the national lab association would dictate how the Ministry of Health effectively responds to the presence of harmful threats and disasters.  He said although clinical labs are equipped for detecting the basics, changes in the environment demand the technology that helps classify disease behaviour and separates them from triggers or copycat organic compounds.  He said this technology would also increase sustainable agricultural technology in The Bahamas and help to fill in gaps of missing data that documents the chemical compounds in the environment.
"We need to know more about our soil so that we can do more in terms of farming and this could happen through a lot of testing and laboratory work," said the alb manager.  "We seem to have very good clinical chemistry labs, which are associated with things like chemistry, haematology, microbiology, in the clinical setting, those things are in pretty good shape, most of them are very well equipped, and have gotten all the instrumentation they need," said Mr. Davis.
He said, however, that there are challenges in agriculture and in veterinary science, and that many of the illnesses seen in the hospital are connected to environmental issues.
"We tend to look at the organic illnesses and illnesses associated with bacteria and so forth.  But what happens when you find out that the cause is not bacteria, or the cause is not one of the non-commutable diseases, but something that is triggering or mimicking that sort of thing," he questioned.
Mr Davis said after looking at the environmental factors that can include things like moulds, or toxic pollutants from smokestacks, it is found that there is much data missing.
By Gena Gibbs
Bahamas Information Services

animals, environment