Local Water Expensive In The Region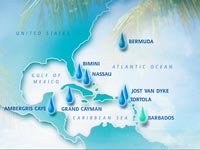 Consolidated Water Company Limited (CWCO) is helping to save the Water and Sewerage Corporation (WSC) millions of dollars in barging costs, part of the reason why water in The Bahamas is the least expensive in the region, according to CWCO's VP of Operations Ramjeet Jerrybamdan.
Consolidated Water now provides WSC with millions of gallons of water daily. Before last year, WSC used to barge water in from Andros to meet the island's water needs.
While Jerrybamdan wasn't able to provide the exact amount WSC has saved since discontinuing the barging of water, he said there is no doubt that WSC has saved money.
"The price for water in The Bahamas is the cheapest water in the Caribbean," he said. "We are able to produce water that is reliable and sustainable and cheaper than barging water from Andros."
WSC is Consolidated Water's only customer.
The company pumps approximately 14.4 million gallons of water into WSC's reservoir on a daily basis, according to Bryan Russell, Consolidated Water's general manager.
Titas, the vessel commissioned back in 1989, which had the responsibility of barging nearly 3 million gallons of water daily from North Andros to the capital, was officially decommissioned in December.
Over the last 35 years, approximately 35 billion imperial gallons of water have been shipped from North Andros to New Providence at a cost of approximately $200 million to meet the water supply demands of the capital.
"What you have to understand is barging water from Andros, you have the operation to barge and then you have the demand on the island and a lot of times when you have the highest demand for water on the island is when we have the roughest weather. And that means the Tongue of the Ocean between here and Andros gets really rough so it hampers the movement of the barge," Russell said.
That resulted in the barge's inability to ship water to New Providence on a consistent basis and therefore severely impacted WSC's reserves.
Russell said Consolidated Water uses high pressure pumps which are diesel driven. He said the plants operate around the clock even during hurricanes.
"In this way we can ensure constant and reliable water to WSC," he added. Russell said the biggest challenge is the high energy costs associated with the operation.
"It impacts the bottom line. As energy goes up it makes it difficult for us to produce the water and keep the cost down," he said.
By Krystel Rolle
Guardian Staff Reporter