National Pride Association Awards Homeowners for Leadership in Landscaping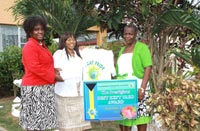 Bahamian women are practicing residential landscaping as an escape from the mundane stressors in their environment and daily lives.
The Bahamas National Pride Association on September 27 gave awards to three homeowners who displayed leadership in national pride in 2012.  Rochelle McPhee, of Sunshine Park, is a cancer patient who felt inspired by the award and her doctor's compassion to release her to receive it, says she wants to share her plants with others in the community.
"Every Thursday when I'm off, we started going to the nurseries, getting plants and this is like three years now and I just kept working on it until it became like this.  When I found out I had cancer, I was uplifted  by my plants.  I trust in God that I will be healed.  I like to work on it in the evening," says Ms. McPhee.
"I wasn't here when they voted for me,  I was in hospital. When I got the news it really uplifted me and I told my doctor I was waiting for them to nominate me for Best Yard and I'm in the hospital. So they said we'll reschedule you for tomorrow, to take my medication, so they allowed me to come out and I'm happy they did.
Ms. McPhee shared memories about her favourite plant.
"This Sunburst here what I got in Christmas. This is really, really beautiful.  What happens is this enables me to give other people plants … because it drops a lot of plants and when it gets bigger it's hard to take out of the ground and everything. But I gave a lot of people a part of it."
Ms. Aileen Spencer of Excellence Estates also won on Thursday and had this to say about the award and her landscaping.
"This is my recreation. In order for me to ventilate or relax I just come in the yard.  I just like the yard. From I got the house, that was my inspiration to fix my yard.  I'm happy I won the award because I see hard work pays off and most women don't believe in being in the yard.  That's my inspiration. Cutting grass and trimming trees," said Ms. Spencer.
Ms. Merrier Bell of Gladstone Road also wanted to thank the National Pride Association for awarding her landscape masterpiece, which she said was inspired by lessons she learned as a youth from her grandmother.
"From growing up, I always had a green thumb.  When I moved in my home, I always had this concept that a home is not a home without a nice landscape and no matter how nice and big your home is, it's the yard that actually makes your home.  So I decided that I was going to take upon myself and landscape it. So I did it by myself.  I bought all the plants and the grass and I did it bit by bit," said Ms. Bell.
By Gena Gibbs
Bahamas Information Services

awards