Nygard Facing Jail Time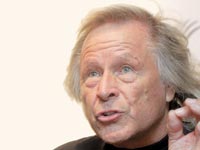 Lyford Cay billionaire Peter Nygard was found guilty of contempt of court yesterday and ordered to pay a fine of $50,000 to the court or be jailed for 30 days for disobeying the court's order involving a civil matter between himself and his billionaire neighbor, Louis Bacon.
Mr Bacon is the owner of Point House Corporation, the applicant in the contempt matter that stems from a legal battle between the two involving a property right of way.
Mr Nygard made commitments to immediately remove the words "To Nygard Cay" from the roadway; to refrain from affixing additional signs; and make no further alterations to the area until the court had determined the matter.
However, just five days later, Mr Nygard altered the roadway by removing several coral stones and plants owned by Mr. Bacon. The following day, on June 19, Mr Nygard elevated the roadway by adding an additional layer of asphalt. On July 14, Mr Nygard removed the gates belonging to Point House. On July 31, Mr Nygard placed several large stones on a section of the roadway that crossed over land owned by Mr Bacon.
Keod Smith, Mr Nygard's attorney, said that his client had acted on his advice. Mr Smith asked the court not to impose a custodial sentence, but to impose a fine and order the restoration of the property.
Mr Nygard can avoid going to prison if he pays a fine of $50,000 to the Public Treasury within 14 days of October 8, and if he reimburses Point House for its expenses in restoring the roadway within 14 days of receiving the bill.

justice, Peter Nygard