Ports International Supports Red Ribbon Ball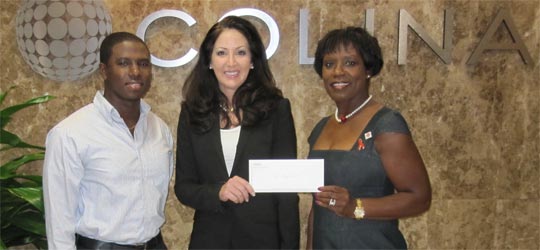 Local medical supplier Ports International Limited recently made a donation towards the AIDS Foundation's 19th Annual Red Ribbon Ball.
Organized by Colina Insurance Limited, The Bahamas AIDS Foundation is inviting persons to be as a part of the 19th Annual Red Ribbon Ball, on Saturday, November 10, 2012 in the Grand Ballroom of the Atlantis Resort, Paradise Island.
Under the theme "An International Affair", this year's Ball event highlights the concerted efforts that nations around the world are taking in the fight against HIV/AIDS.  The food, entertainment and attire will reflect an international flair.
The Ball Committee is asking for support and assistance to continue to take the lead in fighting HIV/AIDS.  The Red Ribbon Ball has netted more than $850,000 for the Foundation since its inception.
In addition to numerous education and treatment initiatives, the funds which have been raised by the Red Ribbon Ball have enabled the Foundation to purchase a house in the southern area of Nassau to be operated as a resource center for adolescents living with HIV/AIDS.
For more information or for tickets to the Red Ribbon Ball, hosted by Colina Insurance Limited, call (242) 396-2100 or email redribbonball@colina.com.
Submitted By Michele Rassin
(Pictured from left to right: Kurt Bonamy, Accounts Payable Assistant, Colina Insurance Limited (Red Ribbon Ball Public Relations Assistant); Michele Rassin, Ports International; Sandra Smith, Manager, Rosetta Branch, Colina Insurance Limited (Red Ribbon Ball Co-chairperson)

charity, health