Sandy Heads Towards Bahamas as Category 2 Hurricane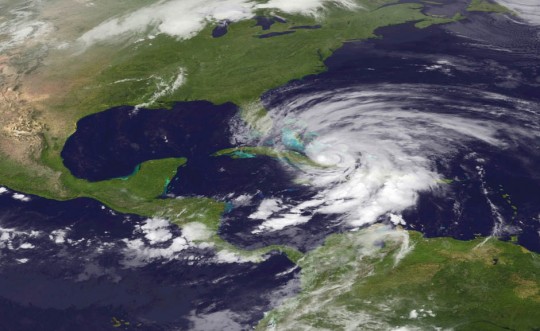 Hurricane Sandy blasted across eastern Cuba on Thursday, increasing in intensity to a Category 2 Hurricane and is headed for the Bahamas after causing at least two deaths in the Caribbean.
The U.S. National Hurricane Center said Sandy had emerged from Cuba's northeast coast around dawn and was moving north at 18 mph (30 kph), with maximum sustained winds of 105 mph (165 kph). It was expected to remain a hurricane as it moves through the Bahamas.
Sandy is the 18th named storm of the Atlantic hurricane season. The storm ravaged Cuba, knocking out power to over 5,000 people living on the Guantanamo Bay U.S. naval base. Officials there said it posed no threat to the 166 prisoners there.
The U.S. hurricane centre said that Sandy would most likely remain at hurricane force as it passes over the Bahamas later Thursday.  It could also bring tropical storm conditions along the southeastern Florida coast, the Upper Keys and Florida Bay by Friday morning.
The hurricane centre said Sandy could produce a total of 6 to 12 inches of rainfall across Jamaica, Haiti, Dominican Republic and eastern Cuba.
"These rains may produce life-threatening flash floods and mud slides, especially in areas of mountainous terrain," the centre said.
In The Bahamas, most airports are closed Thursday, as well as schools, government offices and many businesses.
As Sandy bears down on The Bahamas Islands, it is likely to drop back down to a Category One Hurricane.
Most airports throughout The Bahamas will close by 8:00am Thursday. They are not expected to reopen until Friday afternoon. LPIA is tentatively scheduled to reopen at 3:00pm Friday. Nassau's Preclearance facilities are expected to be operational.
Hurricane Shelters in The Bahamas
On New Providence Island, the following district emergency shelters will be in operation:
Central District
Church of God of Prophecy
East Street and Lilly of the Valley
(242) 322-8376
Calvary Bible Church
62 Collins Avenue, Nassau
(242) 326-0800
Saint Barnabas Anglican Church
Blue Hill and Wulff roads
(242) 323-5995
Ebenezer Missionary Baptist Church
St. Charles Vincent Street
(242) 322-8161
Mount Pleasant Green Baptist Church
East and Quakoo streets
(242) 328-1769
Salvation Army Emergency Shelter
Meadow and West streets
(242) 323-5608
Southern District
New Bethlehem Baptist Church
Independence Drive
(242) 341-8432
Calvary Deliverance Baptist Church
East Street South
(242) 325-1802/323-3135
Church of God of Prophecy
Gambier Village
(242) 322-3097/322-3241
Southwest Cathedral Church of God
Carmichael Road
(242) 341-2601
Golden Gates Assembly World Outreach Ministries
Carmichael Road
(242) 361-3347
Agape Full Gospel Baptist Church
Golden Palm Estates
(242) 328-6937
Western District
Hillview Seventh Day Adventist Church
Tonique Williams-Darling Highway
(242) 361-8683
Cathedral of Praise Church of God
Mount Pleasant Village
(242) 362-5175
Church of God of Prophecy
Gambier Village
(242) 322-3097/322-3241
New Providence Community Center
Blake Road and JFK Drive
(242) 327-1660
Mount Moriah Baptist Church
Farrington Road
(242) 323-1747
Church of God
Greater Chippingham Eden Street
(off Farrington Road)
(242) 324-2582
Bahamas Association of the Physically Disabled
Dolphin Drive
(242)322-2393/328-1020
Eastern District
Holy Cross Anglican Church
Soldier Road at Highbury Park
(242) 393-2428
Kemp Road Union Baptist Church
Kemp Road
(242) 393-5932
Epworth Hall at Shirley Street Church of God Auditorium
St. James Road
(242) 393-7398
Pilgrim Baptist Church
Joe Farrington Road
(242) 393-3644
Saint Mary's Hall at St. Augustine's College
Bernard Road
(242) 324-1511
Anglican Church of the Epiphany
Prince Charles Drive and Elizabeth Estates
Salvation Army
31 Mackey Street
(242) 393-2340
(242) 393-2745
(242) 393-2100
For Family Island hurricane shelters visit the Bahamas Hurricane Preparation website.

hurricane, Hurricane Sandy, travel, weather