Talks To Lower Electricity Costs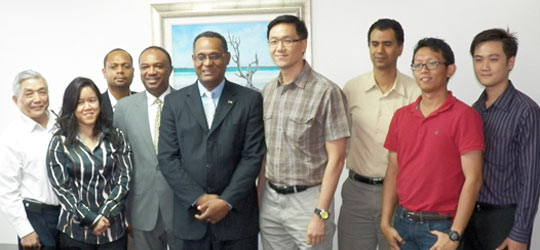 The Genting Energy Group is talking with the government about how to lower electricity costs for Bahamians.
At a press conference following a meeting with Prime Minister Perry Christie, Genting CEO TS Ong said the company will begin assessing both the fuel and equipment used by the Bahamas Electricity Corporation to generate power.
The Malaysian multinational will conduct a three month study into power generation, then report its findings to the government.
Prime Minister Christie has said he wants to lower the cost of electricity to consumers by 30 per cent.
Caption: GENTING ENERGY – Officials from Genting Energy are pictured with the Minister for Grand Bahama Dr. Michael Darville, and Permanent Secretary in the Ministry for G.B. Melvin Seymour, during a courtesy call at the Ministry for Grand Bahama on Wednesday morning. The Malaysia- based energy company is here to carry out a feasibility study which will help to guide the government in finding ways to reduce electricity cost. (BIS Photo / Simon Lewis)

BEC, energy