Tropical Storm Patty Drifts Southward Over Bahamas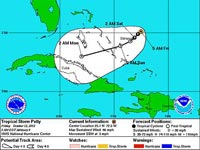 Tropical Storm Patty appeared to weaken overnight as it continued to drift toward the south from the Bahamas, weather officials with the National Hurricane Center reported this morning.
Patty formed about 255 miles northeast of the central Bahamas on Thursday but the system is expected to be short-lived and there are no coastal watches or warnings in effect.
The tropical storm is expected to bring rain to the central and southern Bahamas before moving slowly to the southwest and falling apart as a result of a cold front pushing through the area.
According to the National Hurricane Center in Miami, Patty was stationary on Thursday afternoon but a slow movement to the southwest is expected to begin Thursday night and continue through Friday. Maximum sustained winds have increased to near 40 mph, with higher gusts. Little change in strength is forecast overnight with some weakening likely on Friday. Tropical storm force winds extend outward up to 70 miles, mainly to the northeast of the centre.
Meanwhile, a broad area of low pressure associated with a tropical wave is located about 100 miles southeast of Barbados. Shower and thunderstorm activity continues to show some signs of organization and environmental conditions appear conducive for gradual development over the next couple of days.
National Weather Service officials are reporting that Brevard could see 20 mph winds and strong gusts along the coastline. A lake wind advisory is also in effect across Brevard through the afternoon.
There is also an elevated rip current threat for beachgoers. Rip currents are lines of fast-moving water that can pull swimmers out to sea. Swimmers heading to the beach are advised to stay near a lifeguard, officials warn.
Officials say the high winds and rip currents are not directly related to Tropical Storm Patty.
This system has a medium chance — 50 percent — of becoming a tropical cyclone during the next 48 hours as it moves northwestward at 10 to 15 mph. Regardless of development, strong gusty winds and heavy rainfall are possible across portions of the Lesser Antilles during the next couple of days.