Busy Time For Governor General's Youth Award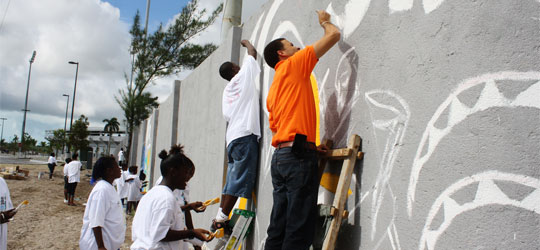 The last quarter has been a busy one for the Governor General's Youth Award with participants from 16 schools receiving either their Bronze or Silver Awards.
Another 63 students completed their Silver and Gold training expeditions last month in Central Andros paving the way for them to qualify for Awards.
As of October 31, there were 36 units comprising 950 participants throughout The Bahamas. There are 22 units operational in New Providence, eight in Grand Bahama, three in Eleuthera and one each on Acklins, Crooked Island and Andros, according to a GGYA quarterly report released this week.
The organization's national director, Denise Mortimer said efforts are underway to resuscitate the unit at The College of the Bahamas in addition to those once operational at high schools in Abaco and Inagua.
Participants weren't the only ones active this quarter. Thirty-six volunteers took part in the final training session of the year. Courses were held in the conference room of the Ministry of Youth in October. Volunteers immersed themselves in the America Heart Association (AHA) Basic Life Savers Course with a CPR component.
Two water safety courses for all first time GGYA participants were also scheduled for this quarter. The first one was held Saturday, September 26. The final one for the year will take place on Saturday, November 17.
Meantime, major events for this period included the 25th anniversary recognition awards ceremony held last month at Government House where 25 outstanding volunteers were honored. They received the GGYA's signature awards from Governor-General, Sir Arthur Foulkes.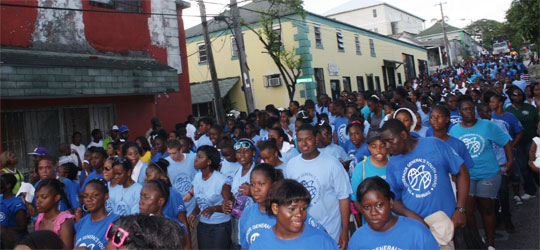 Other major events the GGYA participated in last month included the National Youth March and Rally, where a record 350 participants turned out; the first ever Dr. Keva Bethel Service Day, in which GGYA participants took part in a major clean up of several areas in Bain and Grants Town and the second Youth in Action Day, sponsored by the Ministry of Youth where GGYA participants painted murals on the perimeter wall of the Thomas A Robinson Stadium.
This month, the first cohort of GGYA participants from North Eleuthera High and Harbour Island All Age schools received their Bronze Award on November 7.
Scores of participants in the capital are set to receive their Bronze and Silver Awards on November 29. There's also a AIDS/HIV Awareness hike taking place in Nassau and Freeport on December 1.
Tosheena Robinson-Blair,
Precision Media
Caption 1 Director of Youth at the Ministry of Youth, Sports & Culture, Kyran Turnquest helped GGYA participants paint a mural on the perimeter wall of the Thomas A Robinson Stadium. The activity was a part of the ministry's second annual Youth In Action Day.
Caption 2 A record 350 GGYA participants turned out for the National Youth March and Rally last month. Photos by Precision Media

award, community, educational, schools, society, students, youth