An Evening of Piano Featuring Cyril Huve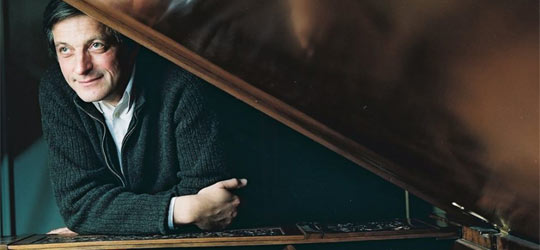 The Nassau Music Society, in association with the Alliance Francaise des Bahamas & Cross Media Culture, Paris, and under the patronage of His Excellency Sir Arthur Foulkes, Governor General of The Bahamas, are proud to present French pianist Cyril HUVE.
The Fondation Alliance française in Paris works closely with its network of Alliances to promote French musicians and artists worldwide. The Alliance Française des Bahamas decided to seize this opportunity and collaborate with the Nassau Music Society to present French artists in The Bahamas. After Philippe Loli and Leopold Giannola who held two classical guitar concerts and a free Master class in the aftermath of Hurricane Sandy, Mr. Huvé is the second French artist to come to The Bahamas under this cooperation.
Cyril Huvé
Disciple of Claudio Arrau, Cyril Huvé was also fortunate enough to be coached by Georges Cziffra. In addition to Huvé's studies at the Paris Conservatory, he earned a Bachelor's degree in philosophy.
A fortepiano specialist, he incorporates a deep knowledge of the original context of each work into his performances. Huvé is a pioneer in the rediscovery of nineteenth century keyboards and their expressive possibilities; he sees these instruments as a means to affirm the values of the Romantic tradition of piano performance that his mentors passed on to him.
His recent CD devoted to Félix Mendelssohn's piano music played on a Broadwood piano from 1840 (Paraty) was awarded with "LES VICTOIRES DE LA MUSIQUE 2010" (French Grammy awards).
Cyril Huvé plays in numerous festivals: Montpellier Radio-France, La Chaise-Dieu, Pablo Casals Prades, Gerberoy, Périgord Noir, Liszt in Levens, Romantic Nights Le Rayol, Pianistic Nights Aix-en-Provence, Musicalta… and in prestigious venues: Indiana University Bloomington, New York, Schubert Club Saint-Paul Minneapolis, Paris Théâtre des Champs-Elysées, Salle Pleyel, Salle Gaveau, London Queen Elisabeth Hall, Oxford… as a soloist with the Orchestra of the Age of Enlightenment, the Dresden Staatskapelle, Avignon Orchestra, National Ile-de-France Orchestra, Baden-Baden Symphonic, etc.
For many years, Cyril Huvé taught at the Paris Conservatory as an assistant to the great French pedagogue Gérard Frémy. He has developed, while he was himself studying at the Paris Conservatory, a series on performance practice for Radio-France from their archival recordings (les Vieilles Cires). He is the artistic director of the Académie de Musique de La Chaise-Dieu, which offers courses on performance practice. Among his recordings, he was a pioneer with the Chopin's Ballads and Scherzi on historical fortepianos for EMI, recorded Busoni's piano music, Liszt's complete Songs with five singers, among which Ernst Haefliger, Brahms and Ligeti Horn Trios with André Cazalet, the Solo-horn of Orchestre de Paris, quintets with Hausmusik, and the ten Beethoven sonatas for fortepiano and violin (Cyprès) with Jorja Fleezanis.
FREE PIANO MASTER CLASS
Monsieur HUVE  will hold a free Master Class for pianists on Saturday, December 1st if there is sufficient request. The time and venue will be announced at a later date. Persons wishing to either perform or attend should contact Italia Watkins-Jan either at the Nassau Music Society or the Alliance Française before November 23rd at 327-4145, 327-8214 or admin@nassaumusicsociety.org, itaia@afbahamas.org or Dr. Christy Lee at the College of the Bahamas: docchristy@gmail.com. We encourange young musicians and music lovers not to miss this opportunity.
THANKS
The Nassau Music Society's concerts are sponsored by Société Générale Private Banking, Pictet, Royal Star Assurance and Colina Insurance Limited without whom none of these community efforts and outreach would not be possible. Special thanks also go to thebahamasweekly.com and Classical 98.1 FM for their continued media support and private and individual donors and members who make these events possible yearly.
Thanks to the Fondation Alliance Française, the Alliance Françasie des Bahamas and Cross Media Culture for assisting in organising and bringing these talented French artists to The Bahamas.
The Nassau Music Society in Association with the Alliance Française des Bahamas & Cross Media Culture present:
An Evening of Piano: Featuring 2012 winner of the French Victoires de la Musique for classical recording, Cyril HUVE

Friday, November 30th, 2012 – 7:00 PM – Government House
Sunday, December 2nd, 2012 – 5:30 PM – St Paul's Church Hall, Lyford Cay
Tickets for the concerts may be reserved now at: www.nassaumusicsociety.org/reservations
Box Offices will open 10 days before the concerts at the following locations: Custom Computers, Cable Beach Shopping Centre; Logos Bookstore Harbour Bay Shopping Centre; and Moir & Co., Lyford Cay Shopping Centre.
Tickets: Members: $25; Non-Members: $35; Students with valid id: $10. Tickets cost an extra $5 if purchased at the door.
Proceeds toward the Nassau Music Society's scholarship fund.
Photo credits: Pierre Delaunay

arts, culture, music