Bahamas Develops Gun Culture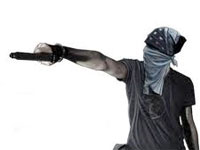 Four hundred and fifteen illegal firearms have been removed from the streets of The Bahamas this year to date, Minister of National Security Dr. Bernard Nottage said.
Nottage, who was in Rome, Italy, for the Interpol General Assembly, noted that a new gun culture has emerged in the country over the past ten years where more criminals are gaining access to illegal weapons.
At the assembly attended by law enforcement professionals from across the globe, Nottage said law enforcement agencies globally are being challenged to do more with less and the first programs that become casualties tend to be community based policing programs that are critical to the rebuilding of crime torn communities.
The National Security Minister said drugs have also been wreaking havoc globally, saying that during the 1970s and 1980s drug trafficking from South America was prevalent in the Caribbean and The Bahamas was used as a transit point.
Nottage said more than 70 percent of the drugs, including cocaine and marijuana, destined for the United States were trans-shipped through The Bahamas.

drugs, guns, illegal