BIFF Announces Final Film Lineup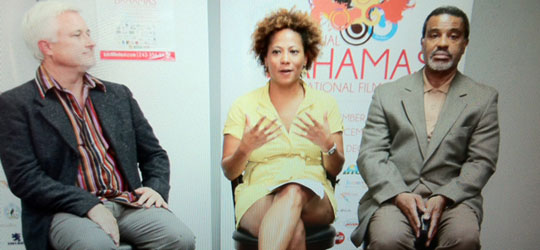 Festival founder and executive director, Leslie Vanderpool today announced the final program details for the 9th edition of the Bahamas International Film Festival (BIFF), which takes place December 6-9, 2012 in Nassau.
BIFF will begin with QUARTET and end with a quartet of four Australian aborigine Singers called THE SAPPHIRES.
Weinstein Company's "QUARTET" starring, Maggie Smith, will open the festival with a red carpet screening at the Atlantis Resort on Paradise Island on Thursday, December 6th while Australian Comedy " THE SAPPHIRES" starring Chris O'Dowd will close the festival with an evening screening on Sunday, December 9th – also at the Atlantis Theater.
This year, the Festival will showcase 78 films from 26 different countries, including 45 features and 33 short films of which several are international premieres and all are Bahamian premieres. The four competition categories at BIFF are Spirit of Freedom: Narrative & Documentary; New Visions; and Short Film. Special sections include Caribbean Spotlight and Self Discovery as well as a World Cinema showcase.
The official BIFF lineup is comprised of the following films:
SPIRIT OF FREEDOM (NARRATIVE)
A.L.F. (France) Director: Jerome Lescure
APARTMENT IN ATHENS, APPARTAMENTO AD ATENE (Italy) Director: Ruggero Dipaola
CHANCE (USA) Director: Evan Kaufmann
GRASSROOTS (USA) Director: Stephen Gyllenhaal
HABIBI (Gaza) Director: Susan Youssef
MEHERJAAN (Bangladesh) Director: Rubaiyat Hossain
MR. SOPHISTICATION (USA) Director: Danny Green
THE DESTINY OF LESSER ANIMALS (Ghana) Director: Deron Albright
SPIRIT OF FREEDOM (DOCUMENTARY)
ARISE (USA) Director: Lori Joyce & Candice Orlando
DOLPHIN BOY (Israel) Director: Dani Menkin
GREEDY LYING BASTARDS (Belgium, Denmark, Germany, Peru, Switzerland, Uganda, UK) Director: Craig Rosebraugh
HAITI UNTOLD (Haiti, Canada) Director: Dan Shannon
THE IRAN JOB (Iran, USA), Director: Till Schauder
THIS AIN'T CALIFORNIA (Germany) Director: Marten Persiel
UPRISING (Egypt, USA) Director: Fredrik Stanton
RISING FROM ASHES (Rwanda, South Africa, United Kingdom) Director: T.C. Johnstone
WOMANISH WAYS, FREEDOM, HUMAN RIGHTS & DEMOCRACY, (Bahamas) Marion Bethel & Maria Govan
NEW VISIONS
BETWEEN FRIENDS (Trinidad & Tobago) Director: Omari Jackson
BETWEEN US (USA) Director: Dan Mirvish
BREAKFAST WITH CURTIS (USA) Director: Laura Colella
DEAD DAD (USA) Director: Ken J. Adachi
DEAD MAN'S BURDEN (USA) Director: Jared Moshe
MAYBE TOMORROW (USA) Director: Michael Wolfe
MY BROTHER JACK (USA) Director: Stephen Dest
REDLEGS (USA) Director: Brandon Harris
THE TAIWAN OYSTER (USA) Director: Mitchell Jarrett
THE STORY OF LUKE (USA) Director: Alonso Mayo
MULBERRY CHILD (USA) Director: Susan Morgan Cooper
SELF DISCOVERY
ART MACHINE (USA) Director: Doug Karr
INOCENTE (USA) Director: Sean Fine and Andrea Nix Fine
I AM NOT A ROCK STAR (Canada) Director: Bobbi Jo Krals- Hart
CARIBBEAN SPOTLIGHT
BREATHE (Bahamas, USA) Director Martin Khodabakshian
JACKSON (Bahamas, USA) Director: Karen Arthur & Thomas Neuwirth
NORMAN SOLOMON (Bahamas) Director: Marion Bethel, Maria Govan
SHE (Bahamas) Director: Kareem Mortimer
WORLD CINEMA
BEWARE OF MR. BAKER (USA) Director: Jay Bulger
BITTERSWEET MONDAY
CAN'T STAND LOSING YOU (USA) Director: Andy Grieve
CITY MONKEY (China) Director: Kong Lingchen
FRENCH IMMERSION (Canada) Director: Kevin Tierney
GO LALA GO (China) Director: Xu Jinglei
IRVINE WELSH'S ECSTACY (Canada) Director: Rob Heydon
REGIN OF THE ASSASSINS (China) Director: Su Chao, John Woo
REVOLUTION (USA) Director: Robert Stewart
RULES OF THE GAME
WITHOUT A NET (Brazil) Director: Kelly J. Richardson
SPECIAL SCREENING
QUARTET (USA, UK) Director: Dustin Hoffman
THE SAPPHIRES (Australia) Director: Wayne Blair
SHORT FILMS
ALEKESAM (USA) Director: Jason Berg
AMOS (USA) Director: Taylor Maxwell
APOCRIFO (Mexico) Director: Ernesto Fundora
ATLANTIS (USA) Director: Matthew Ornstein
BASEBALL IN THE TIME OF CHOLERA (Haiti, USA) Director, David Drag & Bryn Mooser
BEACHED (Guyana) Director: Kojo McPherson
BLACK IRISH (USA) Director: Anika Poitier
BRIGIDY BRAM (Bahamas) Director: Toby Lunn
BURNING HEARTS (Japan) Director: James McFay
BUSTED IN BRINGHAM (USA) Director Talibah Newman
CADAVER (USA) Director: Jonah Ansell
CRESENDO (German) Director: Alonso Alvarez Barreda
DELIVERY (France) Director: Fabien – Mariano Ortiz
DOCKET # 32357 (USA) Director: Randy Wilkins
FIGHT SCENE (USA) Director: Jim Ford
HOMEBODY (USA) Director: Kate Marks
HOURGLASS (Norway) Director: Pedro Collantes
JOCYLEN & THE COYOTE (El Salvador) Director: Pilar Colome,
LE NID (France) Director: Aurelien Drach
LEGACY (USA) Director: Maya Anand
MISSION OF MERMAIDS (USA) Director: Susan Rockefeller
ONE NIGHT STAND (China) Director: Michael Thai
OYSTER ROCKEFELLER (USA) Director: Charles Rogers
PEARL (USA) Director: Dan Butler
PLAY THROUGH (USA) Director: Paul Wagner
PRIVATE SUN (Palestine) Director: Rami Alayan
RAISE YOUR HANDS, (USA) Director: Elliot Kotek
RED AMBER GREEN (Jamaica) Director: Christopher Byfield
SOLACE (USA) Director: Tchaiko Omawale
THUGZ THE MUSICAL (USA) Director: Liam Sullivan
TO MUSIC (USA) Director: Sophie Kohn
TRAVIS PORTER: RED ROCK (Bahamas, USA) Director: Ryan Lightbourn
TU & EU (Portugal, USA) Director: Edward Shieh
VALSE FAVORITE (France) Director: Deborah Helpert
VICTOR (Philippines) Director: Jarell M. Serencio
The festival is proud to announce the return of the Filmmaker's Residency Program. For the eighth year BIFF has broadened the program to include filmmakers from around the world to submit screenplays that are based in The Bahamas or Caribbean region. The Filmmakers' Residency Program nurtures screenwriters by providing them with an unrivaled opportunity to spend a week with accomplished professionals who make a living working in the industry from Los Angeles and New York.
BIFF 2012 begins Thursday, December 6th in Nassau and runs through Sunday, December 9th and for the first time expands to Harbour Island and Governor's Harbour "Island Hopping" December 10 – 14. For additional information please visit our website www.bintlfilmfest.com.
About the Opening and Closing Night Films:
QUARTET, directed by Dustin Hoffman, Cecily, Reggie and Wilfred are in a home for retired opera singers. Every year, on October 10, there is a concert to celebrate Verdi's birthday and they take part. Jean, who used to be married to Reggie, arrives at the home and disrupts their equilibrium. She still acts like a diva, but she refuses to sing. Still, the show must go on… and it does.
THE SAPPHIRES, directed by Wayne Blair, 1968 was the year that changed the world. And for four young Aboriginal sisters from a remote mission this is the year that would change their lives forever. Around the globe, there was protest and revolution in the streets. Indigenous Australians finally secured the right to vote. There were drugs and the shock of a brutal assassination. And there was Vietnam. The sisters, Cynthia, Gail, Julie and Kay are discovered by Dave, a talent scout with a kind heart, very little rhythm but a great knowledge of soul music. Billed as Australia's answer to 'The Supremes', Dave secures the sisters their first true gig, and fly's them to Vietnam to sing for the American troops. Based on a true story, THE SAPPHIRES is a triumphant celebration of youthful emotion, family and music.
The Bahamas International Film Festival is a non-profit organization dedicated to providing the local community and international visitors with a diverse presentation of films from around the world.  In addition to offering films that might not otherwise be released theatrically in the Bahamas, BIFF will provide a unique cultural experience, educational programs, and forums for exploring the future of cinema.  For more information please visit www.bintlfilmfest.com.
By the Bahamas International Film Festival

Bahamas International Film Festival, Leslie Vanderpool