Dissatisfied Bahamas Express Customer Seeking Answers On Cancellation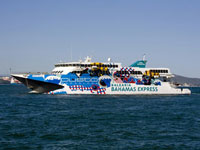 A dissatisfied customer of the Bahamas Express is asking for answers on a cancellation she requested and which they have not acknowledged.
She also questions the system with bins to allow persons to bring luggage back from the United States.
Sherise Alleyne provided The Freeport News with copies of correspondence between herself and Balearia Bahamas Express concerning the refund which began on July 21, 2012.
"At that time she had sent a letter to the company referencing approved reservation MF1D91U and stating: "I contacted one of your 160 sales agents at 3:03 p.m., hours after making these reservations to cancel on behalf of my mother who purchased the ticket for Kimberly Moore.
This was done by phone through Travel/Hoteat 1 888 969 0069. I believe the person I spoke with at the time was Valerie whom at the time contacted Baleria and told me that I would be refunded 20 percent of the purchase price in five to seven days and would be e-mailed confirmation of the refund.
"I took this route after continuously trying to contact Balearia at 1 866 699 9688 and 1 305 793 8644 only to receive no response. It's now been one month and I haven't been refunded anything.
"On 8/21/2012 I contacted Susan at 1 305 793 8644 and was told that there was no information sent for a refund, she would have to contact the call center and get approval from yourself (Mark) to give me a refund. In the meantime because there was no information on file the passenger is listed as "No Show," stating that in this case I "Will Not" be refunded nor will I be able to use the ticket at a later date. Also I spoke to Irelys at 1 954 278 3791 who confirmed what Susan said.
"My concern is that I cancelled this reservation through one of you agencies and I am requesting a refund or have the option of using the ticket at a later date. I look forward to hearing from you soon and I appreciate help in resolving this matter."
This letter was followed up with another a week later, at which time Alleyne said she was writing again because she had not received any response to her first letter and complained that she was no longer able to reach Susan at the 305 number, that a man answers and tells her that this is not her phone and that all the other numbers went to voice mail.
On August 22, she received an email from Deann Lotmore who acknowledged receipt of her email adding: "Kindly be advised that it was forwarded directly to the manager's personal email address for processing. We will be in contact."
Then on August 28, Customer Service sent a letter stating: "Regretfully there is no record, or registered request for cancellation in our system. No refund will be granted. The first registered contact we have for cancellation is August 19, 2012. Ticket was purchased for July 22, 2012 and therefore lost. Best Regards."
On the same day, according to the responses, Alleyne replied: "I am very disappointed by your response. I will assume that you did a full investigation (checking your call log) before making your decision. Based on your poor customer service I feel as though I did everything possible to cancel this ticket. Otherwise I would not be trying to receive a refund. $87.50 is not easy to find for persons who are unemployed such as me and my mother. To avoid this happening to other customers I suggest that you add precautions to your website to assist customers who may need to cancel a ticket. As it stands now 99.9 percent of the time you guys are unreachable and the customer has to suffer the consequences. Thank you."
On August 30, Deann Lotmore replied stating: "I am truly sorry about this. I will speak with the mangers of Balearia about this. Give me an opportunity to see how best I can resolve this."
However, Alleyne said, she has heard nothing more.
She further complained that having traveled on Bahamas Express, they do not have sufficient space for persons to bring their boxes, etc when travelling by boat. She sent pictures of the bins that they were provided which has a mark showing how much storage is allowed.
The Freeport News called the 305 793 8644 and was told that this was not connected with the Balearia but gave the number to the call center.
We called the call center and was put on hold for half an hour without an agent or recording breaking up the time or given an indication of the length of time left before being able to speak with an agent.
One the matter of the bins, this newspaper was told some months ago that Balearia Bahamas Express were increasing their capacity for baggage in response to the need.

By Yasmin Popsecu
Freeport News Staff Reporter